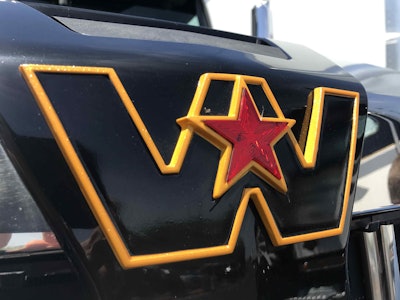 Western Star Trucks' beginning was forged in the forests of the Northwest in 1967 when White Motor Co. launched the new brand for logging customers, introducing the Western Star 4900 in 1968 and the 4964WD in 1971.
In the years leading up to deregulation, White's Western Star trucks developed a rugged reputation among small fleets and owner-operators. The company often created custom modifications for customers on the factory floor in Kelowna, B.C.
By 1981 however, White Motor Co. was insolvent and sold its truck operations to Volvo AB. Western Star was sold again in 1990 before Daimler Trucks North America (then DaimlerChrysler) purchased it in 2000 and moved production to the United States to strengthen its position in the vocational and owner-operator markets.
"We have had the opportunity to take advantage of what Daimler brings," said Kelley Platt, Western Star president and chief diversity officer for DTNA. "The Detroit powertrain makes a huge difference to us, not just in terms of fuel economy but also in terms of reliability and having something that can be specified specifically for our vocational vehicles."
As Western Star continues to diversify its product line, the brand has become an important – yet comparatively small – part of DTNA's portfolio alongside the company's Freightliner brand in recent years. With the launch of the 4700 model in 2011, the 5700XE – the brand's first aerodynamic on-highway model – in 2014, the XD Off-road package in 2016 and the newly announced XD-25 (click to read the test drive), Western Star has grown its total U.S. and Canadian Class 8 market share from 1.9 percent to 3.4 percent in the last five years.
Peter Arrigoni, Western Star's vice president of sales, says the recent market share growth is despite the rapid decline of the oil field sector, once a mainstay for the company that has seen truck sales drop in that segment from 1,240 units in 2011 to just 299 units last year. "If the oil field markets come back and experience some real recovery, we would expect to grow along with that," he said.
Platt says Western Star plans to grow to 8 percent market share in the U.S. and Canadian Class 8 market by 2025. If Western Star is to continue its recent successes, Platt notes the opportunities that exist in the vocational market that she says represents one-third of the total U.S. and Canadian Class 8 market.
"We are focused on trying to provide the market with what they are looking for from vocational trucks while our sister company looks at what they do from an on-highway perspective," says Platt. "[Vocational] is a place where Daimler plays well but we certainly do not have the leading position we do in on-highway. If Daimler were to look for a place to grow, [vocational] would be the single largest opportunity for growth that we have."
Platt says Western Star's 10-percent market share in Canada's Class 8 market is attributable to the company's expansive dealer and service footprint across the country and says Western Star will continue to expand its locations in the United States, particularly in parts of the Midwest, Southeast and West Coast where voids exist. Presently, Western Star has 279 dealer locations in the United States and 80 in Canada.
Western Star executives project a smaller volume in total U.S. and Canadian Class 8 truck sales in 2017 compared to 2016 but remain optimistic for vocational market growth, buoyed by opportunities with municipal customers and improvement in the oil and gas sector, an area that has been in decline since 2011. Additionally, they point to positive signs in the housing market and prospects for higher infrastructure spending and recovery in the commodity markets.
"We are pushing very hard to make sure our organization is customer-facing and focused on customers' needs," said Arrigoni. "We have to continue to add to all of our products in up markets or down markets."
Western Star announced several new options for its product lineup, including:
Straight truck configuration for the Western Star 5700 for expeditor and RV applications in a day cab or sleeper;
Detroit 23,000-lb front steer axle for the Western Star 4800 and 4900 in applications that require a higher front axle weight rating like snow plow, dump and heavy haul;
RollTek seat systems for the Western Star 4700, 4800 and 4900 that inflate side-impact airbags, tighten seat belts and compresses air suspension seats to the lowest position to protect the driver in a rollover;
Sealed frame rails for the Western Star 4700, 4800 and 4900 that reduce corrosion on double channel and partial liner configurations;
Abrasion tape for exterior harnesses for the Western Star 4700 and 5700 to prevent damage to the wires from debris, water and chafing;
Aftermarket-installed five-man crew cab option for the Western Star 4700, 4800, 4900 and 6900 models with either two or four doors, and;
Aluminum diamond plate tool box for the Western Star 4700.