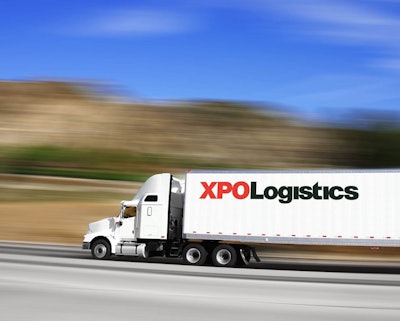 XPO Logistics is appealing a California's agency's award totaling $855,286 to four owner-operators for alleged wage law violations, including under a 2016 mandate compensating non-driving work tasks.
The state labor commissioner ruled the logistic giant's subsidiary, XPO Cartage, had misclassified the truckers as independent contractors instead of employees. The April 14 award is to compensate the drivers, still working for the carrier, for what it called "nonproductive time," such as time spent on inspections, scanning documents and talking to dispatch. The order also compensates the drivers for meal and rest breaks, liquidated damages and interest. "Substantial evidence supports the finding that plaintiffs were functioning as employees rather than as true independent contractors," it stated.
XPO is appealing the April 14 order to California's superior court. "We know firsthand that the majority of owner-operators who serve our customers prefer to work as independent contractors, and we will continue to advocate for their right to do so," it stated.
The commission noted the carrier objected to the hearing, but otherwise did not participate. XPO maintained the state should compel the truckers use arbitration to settle the issue, as stipulated in the agreements they signed with the company.
The agency issued awards ranging from $171, 939 to $279,416 for unpaid wages and penalties accumulated over three to four years of rail drayage in Los Angeles county. It's the first time California ordered compensation for time on tasks such as truck inspection, waiting on dispatch or scanning documents, said Justice for Port Truckers, a Teamsters union campaign.
A 2016 state law set compensation and wage requirements for piece-rate workers regarding rest and "other nonproductive time" California requires that workers receive 30-minute meal breaks and 10-minute rest periods. However, the drivers testified they could not be off duty to eat or rest because of job pressure and being required to stay with the truck.
The department examined XPO's control over drivers work, including that they could not use their trucks to work for other companies. Although they leased trucks from CTP Leasing and received financing through Paccar, XPO made those arrangements, it stated. They were represented at the hearing by a senior analyst with the Los Angeles Alliance for a New Economy, which emphasizes labor and environmental issues.
In recent years, numerous misclassification claims have been filed against XPO and several and other Southern California drayage companies with the commission, courts and the National Labor Relations Board.