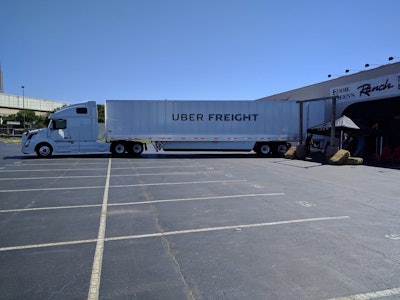 Ride-sharing giant Uber has slowly been working its way into trucking for more than a year.
Last June, the company acquired autonomous trucking up-start Otto, which was expected to help give rise to Uber's long-haul trucking business Uber Freight. Uber CEO Travis Kalanick told Business Insider in an interview last year that the company was absolutely "getting in the trucking business."
"It is a challenging, interesting, nuanced business, and it is going to be intense getting into it, but that's exciting to me," he says.
Uber Freight initially was intended to mirror the functionality of Uber's app (connecting a shipper with a carrier and eliminating a need for brokers), but a tweet fired off late Sunday night by Kalanick – a day after partying with the searsucker'd elite at the Kentucky Derby – suggests the company could be using its own trucks and/or trailers in some capacity.
Footnote: This month has certainly been active on Twitter for trucking news.
So much great stuff going on! #uberfreight pic.twitter.com/OIz1ED6AGl

— travis kalanick (@travisk) May 8, 2017
CCJ has reached out to Uber for comment. This story may be updated.