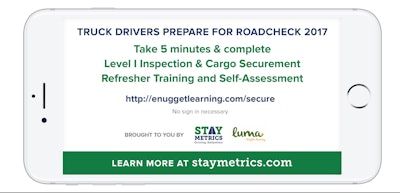 Stay Metrics, providers of an evidence-based driver engagement, research, and analytics platform that enables motor carriers to retain more of their best drivers, has teamed up with Luma to offer the trucking industry a free online training module in advance of CVSA International Roadcheck.
The Commercial Vehicle Safety Alliance's (CVSA) 30th annual Roadcheck 2017 will take place June 6-8 across North America, during which time federal and state-certified CVSA officers will triple the number of inspections they normally would conduct in a 72-hour period.
Every year the CVSA International Roadcheck has a special emphasis on a single violation category. The complimentary training module from Stay Metrics and Luma, called an eNugget, provides a short, interactive learning and assessment for Level 1 inspections and the areas of cargo securement that officers will be targeting.
The eNugget is optimized for viewing on any desktop or mobile device and will be available during the months of May and June at https://enuggetlearning.com/secure. No login or registration is required.
"Stay Metrics and Luma are offering this eNugget as part of our ongoing commitment to safety in the trucking industry," said Tim Hindes, chief executive officer of Stay Metrics. "Last year, our e-Nugget for CVSA Roadcheck 2016 was accessed by 3,100 people and more than 1,200 completed a self-assessment. We encourage drivers and fleet managers in the industry to take this free training and share it with their peers to help everyone be better prepared. Our goal for 2017 is to double the size of users."
Since 2015, Stay Metrics has partnered with Luma to develop a monthly series of online Drive Safe training modules that are an integral feature of the privately branded driver rewards and engagement platform that Stay Metrics administers for motor carrier clients.
Each of the eNuggets is no more than six minutes long and uses a combination of video, animation, text, audio and interactive game elements that cater to the unique learning preferences and learning culture of truck drivers.
Drivers for Stay Metrics clients have earned more than 57,000 awards for completing modules in the expanding Drive Safe training library. Stay Metrics automatically records the completions, and drivers can re-watch modules at any time. To date, the eNuggets have received more than 160,100 views.
Drivers consistently give high ratings to the training. The average score of eNuggets in the Drive Safe library is 4.3 on a scale of 5.0 based on more than 13,000 ratings.