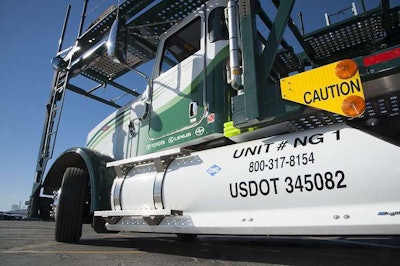 Momentum Fuel Technologies is now offering a fuel management module (FMM) drop-in replacement for many FMMs on the market.
Momentum's FMM houses the electronics, fuel filter and fuel-fill receptacles and features custom bolt-on brackets to match most existing bolt holes.
Momentum Fuel Technologies General Manager Mike Zimmerman says the product was designed to easily integrate with systems as a direct replacement for other, less efficient FMMs on the market for heavy- and medium-duty vehicles.
"This drop-in option is valuable to customers who need to replace their previous FMM and want a new system which was designed with performance, serviceability and durability in mind," he says.
Momentum's new FMM is also able to integrate with the vehicle's J1939 communication network, providing improvements to engine and fuel system diagnostics, as well as improved driver feedback.  The available in-dash digital gauge provides highly-accurate fuel readings, reduces range anxiety and provides accurate distance-to-empty information to drivers.
Also Thursday, Geotab announced support for compressed natural gas (CNG) fuel level and temperature on all Momentum Fuel Technologies' CNG fueling tanks and systems, giving fleets with CNG vehicles visibility into their fuel usage and driver behavior already offered to other vehicles using Geotab's fleet management solution.
Geotab Associate Vice President of Commercial Vehicle Solutions Scott Sutarik says this integration addresses the industry's limited ability to use telematics to report CNG level from the vehicle for accurate fuel level readings. With a limited network of CNG stations and an average slow-fill CNG vehicle fill up taking eight to 10 hours, this insight into how much fuel a vehicle actually receives  can help enable increased vehicle uptime, timely deliveries and reduce anxiety around fuel levels for fleet managers and drivers.