CCJ's Indicators rounds up the latest reports on trucking business indicators on rates, freight, equipment, the economy and more.
---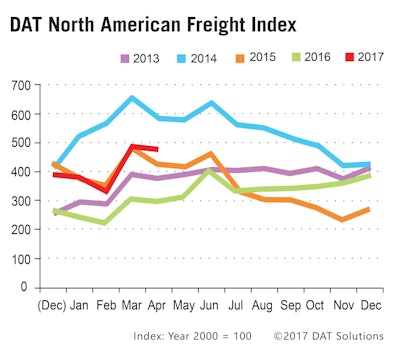 Despite falling slightly from the month prior, freight volume in April remained above seasonal norms, according to the latest DAT Freight Index, which measures freight volume and rates on the spot market.
DAT says the data through April signals a solid start to 2017, with freight volume in April up 60 percent compared to the same month last year.
Truckload rates also rose, both on a month-to-month basis and a year-over-year basis. Van rates were up 4 cents from March and 17 cents from last April. Reefer rates, meanwhile, rose 7 cents from March and 14 cents from April 2016. Flatbed saw similar growth, climbing 4 cents from March and 17 cents from April 2016.
"It's not unusual for truckload freight activity to give ground in April, but national average load-to-truck ratios and rates last month were higher than expected," said Mark Montague, DAT industry pricing analyst.
---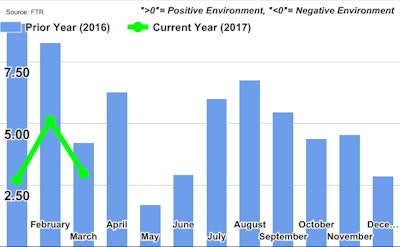 February conditions point to improving conditions for carriers: Market conditions for carriers, as measured by FTR's monthly Trucking Conditions Index, showed positive gains in February.
FTR expects market conditions to steadily improve throughout the year, predicting rate growth and regulatory drag to put upward pressure on rates. However, FTR does not expect contract rates to "make a strong move" until later in the year.
"The economic outlook has solidified for 2017, and freight growth is expected to accelerate versus what we saw in 2015 and 2016. While we have reduced our assumptions of productivity hits to truck fleets and drivers from the regulatory environment, the acceleration of freight growth is enough to keep utilization rates high, and climbing, during 2017," says FTR's Chief Operating Officer Jonathan Starks. "The downside is that the rate environment remains slow to pick up. Contract rates will begin to show year-over-year gains by the time Q2 hits, but any real acceleration isn't likely to occur until the end of the year. Spot rates have begun moving upward, but are only a couple of percentage points above prior year levels."