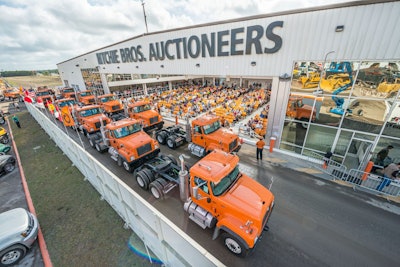 Heavy equipment auctioneer Ritchie Bros. has announced it has completed its acquisition of IronPlanet, an online heavy equipment auction company.
Ritchie Bros. will make the acquisition for $758.5 million, subject to customary closing adjustments, and could close "in the next few weeks," writes CCJ sister site Equipment World Editor Chris Hill. The company says the purchase will allow it to become a "multichannel company where customers can buy, sell or list equipment when, how and where they choose – both onsite and online."
Later this year, Ritchie Bros. will combine its online EquipmentOne brand with the IronPlanet DailyMarketplace, creating a brand offering called Marketplace E that gives customers more ways to set reserve pricing.
As a part of the acquisition, Ritchie Bros. also enters into an initial five-year agreement with Caterpillar to give Caterpillar's independent dealers access to a global auction marketplace to sell their used equipment. The company also will continue to coordinate and manage Cat auctions in Cat dealer locations.
Ritchie Bros. will maintain its global headquarters and technology presence in Vancouver, and confirmed that Pleasanton, Calif., IronPlanet's headquarters, will also be one of its key technology hubs. The company says it will optimize its U.S. office network over the next few years and establish a small commercial hub in the western suburbs of Chicago in the fall of 2017.