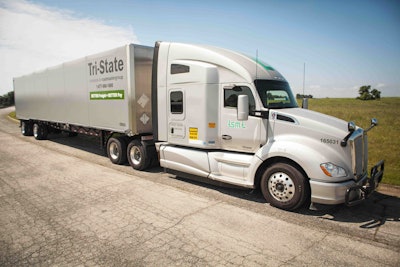 In May, 2016, the Roadmaster Group acquired Tri-State Motor Transport (TSMT) and merged it with Secured Land Transport, a carrier the company had purchased earlier.
The new TSMT division of Roadmaster continues as a leading provider of specialized, secure transport, with more than 300 power units dispatched from offices in Joplin, Mo., and Glendale, Ariz.
The largest customer of TSMT is the Department of Defense. Hauling munitions and explosives for the DoD is a strong niche but "sometimes when you work with a government institution you start behaving like one," says Frank Larance, director of asset utilization and business intelligence.
In May, 2017, managers of TSMT set new goals to achieve higher levels of service, velocity, efficiency and revenue per truck.
As a first step they mapped out current dispatch processes on handwritten Post-it notes, he says. This exercise involved more than 100 feet of notes pasted on office walls, he says, and helped cull out processes that added value to TSMT and its customers.
To solidify these processes, the carrier leveraged technology it already was using to meet stringent load security requirements for its customers. With over a month since implementing new strategies, the company has seen the consistency and accountability of its business processes improve significantly, Larance says.
Securing transport
Carriers that work for the DoD have to meet requirements for the Defense Transportation Tracking System (DTTS) which enables the DoD to independently monitor the status of shipments in transit.
"Panic button" functionality is one technology requirement for DTTS. Drivers must be able to instantly alert fleet managers and the DoD while inside or outside the tractor of risky circumstances. TSMT has panic button functionality in its MCP200 in-cab mobile platform from Omnitracs.
"We have to test the panic button at the beginning of every load to make sure it is working as part of the system," Larance says.
Real-time tracking data is another requirement. TSMT sends asset location data directly to DTTS from in-cab and trailer tracking systems. Both of these systems from Omnitracs are equipped with redundant cellular and satellite communications.
TSMT marks loads from the DoD and other customers that require elevated route monitoring in its LoadMaster transportation management system from McLeod Software. The system monitors loads for real-time exceptions using data coming from tractors and trailers.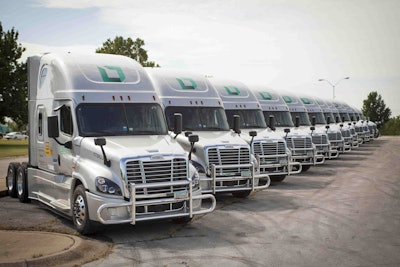 Users get a screen flash and an instant Rapid Alert email from the McLeod system to respond immediately to exceptions, he says.
As one example, TSMT's trailer tracking system is equipped with door sensors that detect open/closed status. This status is paired to dispatch data in the LoadMaster system to give an instant alert if a door is opened at unauthorized locations.
Additionally, TSMT uses the integrated Omnitracs and LoadMaster system to immediately alert management if a driver connects to the wrong trailer during drop-and-hook events.
"The communication is pretty seamless," says Larance, who notes the use of geofencing technology from these systems automates arrival and departure notifications when drivers are at planned locations on routes.
The company also uses a security system for fuel transactions. The system is from EFS, its fuel card vendor, and monitors for an exception when the location of a tractor does not match the location of the fuel transaction. It also monitors for possible fraud if the number of gallons purchased exceeds the fill capacity of a truck. The fill capacity is determined from the difference between the fuel level (captured by Omnitracs) and a tractor's fuel tank capacity.
Strategic routing
One improvement strategy that TSMT began in May is to send drivers detailed instructions for the final mile of their routes. The company uses the Navigo turn-by-turn navigation application in Omnitracs units. The application allows the fleet to create detailed routing instructions for drivers to assist with pickup and deliveries.
The drivers TSMT hires "tend to be more seasoned and experienced," he says, and at times may have a better understanding of routes than its navigation system. Such instances may arise during weather and traffic events.
"We are a little more flexible in routes," he says. "Our main concern is that they are on a safe, legal route for the product being transported." Larance says management expects drivers to stay within one percent of the planned mileage of routes, on average.
Another way the company uses technology to increase both compliance and efficiency is to assign monthly Pro-Tread training modules to drivers through the MCP200 platform. The fleet also tracks driver performance data and holds monthly reviews with drivers for speed and engine RPM behaviors, he says.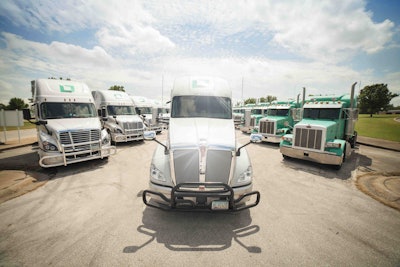 For additional fleet mobility needs, Tri-State subsidizes driver cell phones and uses "a couple different apps." One is the Weight my Truck app from Cat Scales that allows drivers to go through the weigh process without exiting their truck. Some loads require the driver to be with the truck at all times, he says.
Rather than the driver turning in a scale receipt, the app sends a clean copy of the receipt to the back office automatically.
The company also uses Drive Axle, an app that lets drivers take pictures of their trip paperwork to speed they delivery of images to the office for processing, he says.
Segregating the business
Perhaps the most significant change that came from the May strategy meetings is the organizing of TSMT's operations into strategic business units based on freight types.
Previously, "everything was in one hopper and it was anyone's game," he says.
"What we have seen is an increase in performance," he explains. Individuals are now responsible and held accountable for the freight in their business units.
"They are running with it. We also have specific goals set for them. Before we had generic targets, but they did not know how to impact targets. With segregation, you know exactly what you have to do."
TSMT is in the process of implementing a driver-load optimization software to help planners assign loads. The software considers all of the different complexities in load planning such as the different levels of security for loads, the equipment types and weight constraints.
To monitor ongoing performance, the carrier is using a business intelligence tool called Vital Signs from McLeod Software. Larance says he monitors real-time performance metrics for deadhead, rate per mile, revenue per truck and more. All of these key metrics are displayed on big screens in the operations room.
In contrast to the rate of change at large, government agencies, Tri-State Motor Transport is finding ways to accelerate its business with technology.