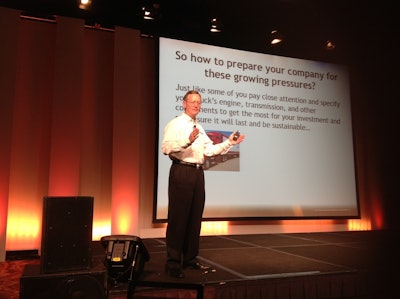 McLeod Software announced the release of version 17.1 of its LoadMaster Enterprise and PowerBroker management systems for asset and non-asset transportation customers.
Highlights of the new version are:
New decision support tools for EDI Automatic Order Creation to assist the automated order acceptance process.
More ability to analyze financial activity with McLeod IQ, a business intelligence application.
Two new rating methods added to the tariff-based rating engine in the PowerBroker LTL.
New features to help refrigerated carriers with Food Safety Modernization Act compliance. A new equipment match process allows for carriers and brokers to specifically set default temperature requirements based on commodity, customer, shipper or consignee. Additionally, it allows for other equipment items on the trailer or driver record to be present before dispatch is allowed in LoadMaster.
CRM Sales Pipeline Report for forecasting has been added to McLeod's CRM module. It shows sales opportunities with a percentage of completion and potential dollar amount to better plan and forecast.
Embedded Google and ALK Maps to enable viewing without opening a completely new window.
SQL Health Check, a system designed to monitor the overall health and performance of the LoadMaster/PowerBroker database server.
Support for Canadian Hours of Service (HOS).
New and enhanced integration for LoadMaster Enterprise and PowerBroker include:
SaferWatch for onboarding carriers.
A new module to integrate LoadMaster with video safety monitoring companies such as SmartDrive. This module transmits driver data to synchronize the setup and maintenance of this information in both systems.
Geotab's HOS solution to automate the driver hour updates within the LoadMaster Dispatch module.
An enhanced fuel interface with Comdata to setup a one-time and daily limit for miscellaneous products.
New support for a workflow-based dispatch process with Blue Tree Systems.
New support of Omnitracs workflow for IVG units.
An enhanced PeopleNet interface that includes the ability to process trailer drop and hook events. The ability to capture signature information has also been added, which can be stored through the integration with DocumentPower imaging. New support for PeopleNet's alarms data has been added, and the number of elements retrieved in the PerformX screens has been expanded.