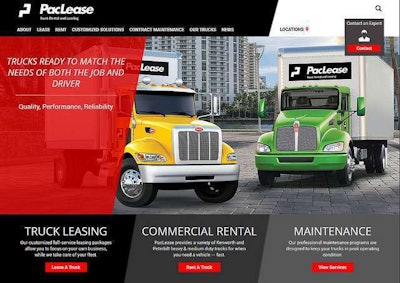 PacLease launched its web site this week, offering simplified navigation and information on the company's full-service lease programs, commercial truck rental and customized solutions.
A franchise locator also helps match customers with their closest PacLease location, and an integrated social media presence into the new site – along with an enhanced news page – offers greater visibility into what's happening with the company.
According to Michelle Harry, Paccar Leasing's director of marketing, the new web site also provides details on the numerous programs available in a lease, including the company's newest program – PacToll, a toll billing management service.
The new PacLease site is optimized and intuitive for mobile users.
"The site was designed to be responsive and scalable," Harry said, "which means the site will automatically display the pages optimized for the browser and device being used, retaining the new signature look and usability on any device. This functionality takes advantage of smartphone features, allowing users to tap on listed phone numbers or addresses for the smartphone's navigation app."
On each page, PacLease has included 'Contact an Expert' button, which allows customers to provide fleet information and ask PacLease any question directly through a web form, which is sent to an expert who will follow up with the customer.