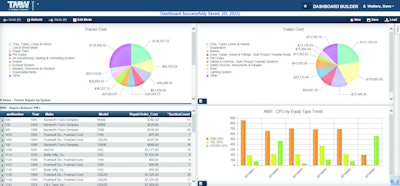 TMW Systems announced that its Reveal Series cloud-based business intelligence and data analytics platform is now available as an add-on for users of the company's Appian FinalMile solutions, which include DirectRoute routing and scheduling optimization software as well as DRTrack fleet tracking and reporting.
The optional Reveal Series includes transportation-specific data models and visualization tools. When used in conjunction with Appian FinalMile solutions, the platform helps to analyze a broad range of metrics for route profitability, route planning efficiency and driver performance and to assess a variety of "what if" scenarios.
"TMW Reveal Series brings the power of big data analytics to fleets looking for ways to dramatically increase the efficiency and competitiveness of their final mile operations," said Brian Larwig, vice president and general manager, TMW Systems. "These new tools enable users to generate actionable intelligence critical not only to how they operate their businesses today but also to enhance their competitive position in the years ahead."
TMW Reveal Series is a business intelligence resource that is scalable for fleets of virtually all sizes, the company says. It supports data from TMW's transportation management systems, mobile communications platforms, asset maintenance solutions and other sources.
Reveal Series can be used by fleets to enhance predictive capabilities by unlocking operational data and historical trends, it says. Fleet professionals can also analyze a variety of "what if" scenarios to determine financial, service level and other likely implications of new operational practices and competitive strategies.
Results to queries are a few clicks away and presented in data visualizations, dashboards, scorecards, multi-layer thematic maps and more.
"Reveal Series was developed by and for transportation industry professionals to serve as a single 'source of truth' for fleets and other businesses active within the final mile market," Larwig said.