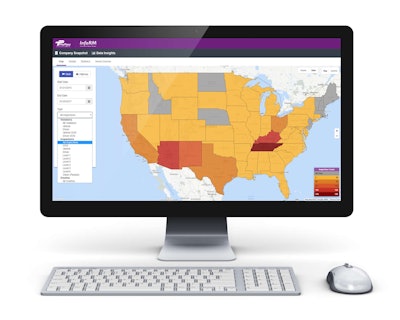 North Carolina will be deploying PrePass truck pre-clearance and weigh station bypass at 10 additional locations throughout the state. North Carolina first became a PrePass state in 2015 when the service was deployed at the Hillsborough weigh stations on I-40.
The following locations will be able to process PrePass qualified trucks approximately within the next 60 days:
• I-95 northbound near Lumberton
• I-95 southbound in Halifax County
• I-85 northbound in Gaston County
• I-85 southbound near Charlotte
• I-77 southbound near Mount Airy
• I-77 northbound near Mount Airy
• I-40 eastbound near Asheville
• I-26 westbound near Hendersonville
• I-40 eastbound near Statesville
• I-40 westbound near Statesville
"We are pleased to have the opportunity to expand HELP's safety investment in North Carolina," said Help Inc.'s president & CEO, Karen Rasmussen. "The State just deployed PrePass only two years ago, but officials have already experienced the benefits of our reliable transponder technology and the fact that PrePass helps keep traffic moving safely while saving time and money for carriers."
Help Inc. is a public private partnership serving the trucking industry and state safety agencies by promoting highway safety and efficiency in commercial transportation. Since North Carolina's two PrePass sites opened in late 2015, carriers in the state have logged 465,476 successful weigh station bypasses as of April 30, 2017. This translates to 38,790 hours and 186,190 gallons of fuel saved, translating to $4,040,332 in operational cost savings.
In addition to weigh station bypass, HELP also offers electronic toll payment options through PrePass Plus, along with InfoRM, a safety management tool that helps fleets understand their safety scores and inspection history. InfoRM helps fleets make improvements to vehicle maintenance, driver behavior, uptime and safety to ensure they continue to receive bypasses.