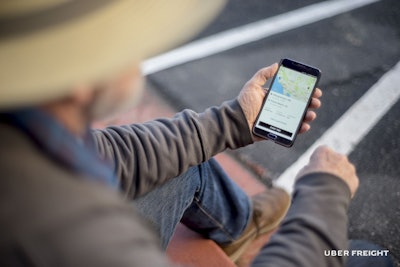 Hardly three months after its official debut, Uber Freight announced today it will expand services to major metros across California, Arizona, Georgia, South Carolina, North Carolina and the Chicago-Midwest region.
While emphasis is placed on major corridors and freight lanes in the new regions – which, including Texas, cover more than 25 percent of the country's drivers and loads – carriers from all over each state will be able to use the app.
Uber Freight Senior Product Manager Eric Berdinis says the new areas were targeted through driver feedback following the company's launch in May, expressing desire for higher volume on connecting lanes.
"It was pretty clear," he says of the comments, "[drivers] want more loads in more places."
Uber Freight Director Bill Driegert says the company has grown its freight volume 10-fold in the last eight months and will use the new markets to put more local and short-haul loads in the marketplace.
"Drivers like the loads that they can take several in a day, or take a load every single day," Berdinis says of the company's focus to keep most available loads short-haul, noting long-haul loads are not as consistently available. "We want to provide an experience where every time you open the app, there's something for you."
While most of the loads currently available on the platform are in Texas, Berdinis says drivers can expect an ever-increasing freight volume in all markets over the coming months.
Personalized app update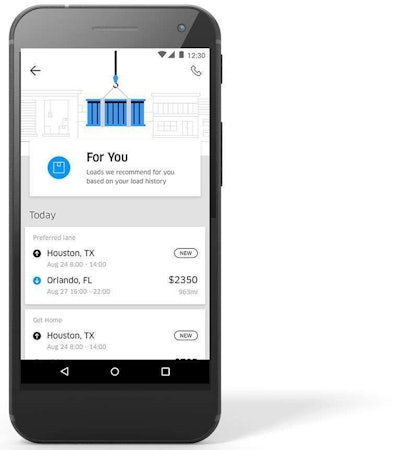 Also new as of this week is a personalized load matching function within the Uber Freight app – "a shift in how we approach users using the app," Berdinis says.
The app will continue to show posted available freight within a driver's pre-selected set of criteria, but will make recommendations based on the carrier's load history with the platform and their personal preferences.
Berdinis says this function, which will be made available through an app update, was designed to put the loads the driver is most likely to want in front of them quicker.
"Local drivers and long haul drivers have specific wants," Berdinis says. "Do they like loads that take them home or do they like loads that have a certain quality to them?"
The more loads a driver accepts through Uber Freight, Berdinis says, the more the platform learns about their preferences. A "For You" pack will show the driver all of their personalized recommendations.
"As time goes on, the recommendations are continuously improving to make the experience more personalized," he says.
Uber Freight drivers will be notified of newly-posted matched loads through a push notification, or by logging into the app.