Exceptions are the rule in transportation and logistics. At any moment a load could fall behind schedule, a driver have an accident or a truck break down, among many other possibilities.
Fleets use a variety of technology to see exceptions the moment they happen. Software, whether on their own servers or in the cloud, is constantly monitoring live data from vehicles, transportation management systems and other sources to report on what went wrong.
The reporting is helpful, but oftentimes the damage is done by the time information comes in and exceptions can be very costly in this business.
Acting on predictive data, rather than exceptions, is a new and better alternative. Imagine a fleet manager knowing a truck will likely break down due to a problem with its exhaust treatment system. With the foresight, the manager routes the truck to a dealer and reassigns its load to another truck.
The manager gets another report that identifies a driver, or group of drivers, who are likely to quit and reaches out to resolve the conflicts. Another report shows which drivers are most likely to be in a collision and what intervention strategy will best mitigate the risk.
With so much data, computing power and software tools, these scenarios are possible by predicting future events and using workflow tools to change the outcomes – before exceptions take place.
In this three-part series on predictive analytics we begin with the impact the technology is having on fleet maintenance. Subsequent articles will cover new applications for operations, customer service, driver safety and retention.
Predictive maintenance
All truck OEMs now offer remote diagnostics services to help their customers reduce unplanned downtime of equipment. OEMs and fleets are building on this foundation to be able to predict maintenance needs of assets to take cost-saving preventive measures.
The data from a single fleet or the collective data an OEM has on a truck model might show a turbo is likely to fail at 270,000 miles under conditions such as routes with high elevations or certain driver behaviors and weather patterns.
"When you pull all of this together, you could start to predict component failures with enough certainty to change a $25,000 part before it fails," says Dick Hyatt, chief executive officer of Decisiv. "It is a little bit of a dream right now, but I can see it will happen over the next several years."
Perhaps more important than predicting component failures, at least for now, is having a method to quickly put diagnostics information into action.
Decisiv provides a cloud-based platform that Volvo, Paccar and Hino Trucks use to manage service events for customers. The events are triggered by diagnostic trouble codes (DTCs) in vehicles. The company works with OEMs to categorize the severity of DTCs on a scale of high, medium and low.
"A big issue with remote diagnostics and predictive maintenance service is to be able to grade and determine which DTCs are important enough to do something about," he says. "Alongside of that, the actionable ones need to be incorporated into a workflow."
For high severity fault codes, Decisiv opens a "PM due" process. All participants in this workflow — the OEM call center, dealer network and the fleet — are notified via email, text and the online dashboard.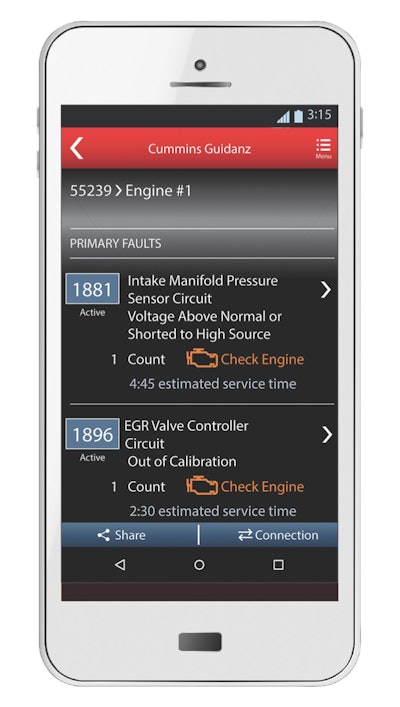 Medium severity faults go into a "pending work mode," Hyatt says, and "travel with the truck." The next time the asset shows up at a shop location, technicians can look at the pending work file and recommended repair plan for the DTCs. Similarly, the low severity faults stay with the asset profile.
As a service event evolves, any information relevant to the case stays in the Decisiv platform for participants to interact and determine what needs to be done.
To get to predictive maintenance, in which a service event could be initiated before a DTC appears, technology suppliers will need to analyze diagnostics and repair data from a larger population of vehicles. And the quality of repair data will need to improve as well, he says, by getting more people to use coding standards like VMRS.
Remote diagnostics is more complicated than reading fault codes, and OEMs have made big strides to analyze data to get to the root causes of problems.
As a data analytics specialist, Bsquare works with OEMs and fleets to bring information together from different sources — the engine, subsystems and historical information — to "have a high level of confidence of what the issue might really be," says Dave McCarthy, the company's senior director of products.
"All of this can happen while the truck is rolling down the road," he explains. Once the root cause in known, automated workflow can identify the parts and technician skill levels needed to complete the repair at the closest service center.
Bsquare is working with Paccar to develop business intelligence dashboards, analytics and workflow tools to power its remote diagnostics platforms and services.
Once a vehicle arrives at Kenworth and Peterbilt dealers, technicians are using technology developed by Bsquare that guides them through a decision tree of fault codes to shorten diagnostic and repair time.
McCarthy says Bsquare also works with motor carriers that operate mixed fleets to bring their DTCs into a single dashboard and provide "a combined understanding of what is happening" with assets. As the amount of data continues to grow, OEMs and fleets want to predict failures rather than react to them.
"That is where things are going to go," he says. "What is possible will drive companies to be more progressive."