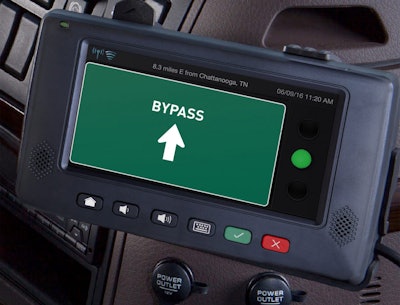 Drivewyze announced that its weigh station bypass service is now being provided in North Dakota, marking the first debut of a fully operational weigh station bypass program in the state.
The Drivewyze PreClear program is offering weigh station bypass opportunities at 13 different approaches to seven fixed weigh stations, as well as eight mobile sites, for a total of 21 locations. The program is being run in collaboration with the North Dakota Department of Transportation and the North Dakota Highway Patrol.
"The addition of North Dakota continues the expansion of North America's largest bypass service network and closes a nearly 400-mile service gap between Moorhead, Minnesota, and Wibaux, Montana," said Brian Heath, president and CEO of Drivewyze. "Drivers traveling from Chicago to Idaho now have bypass opportunities in all six states over a 2,000-mile stretch."
Matt Holland, manager of information technology for Winnipeg, Manitoba-based Wildwood Transport, said his company's drivers are thrilled to be getting weigh station bypass for the first time in North Dakota.
The specialized open-deck hauler operates a fleet of 40 late-model trucks that transport a variety of agricultural products and equipment, general commodities, steel, and construction equipment on various configurations of open-deck trailers.
Wildwood Transport drivers obtain weigh station bypasses through the Drivewyze PreClear app that came preloaded on the company's electronic logging devices (ELDs).
Wildwood's trucks carry nearly 1,100 loads per year through North Dakota, according to Holland.
According to Drivewyze PreClear Analytics, a free analytics weigh station activity reporting tool, nearly a third of the 983 encounters company trucks had with weigh stations in the United States in the month of July occurred in North Dakota. While each delay lasts on average only a few minutes, they all add up over the course of a day, Holland explained.
"Plus, each time our drivers encounter a weigh station increases the chances that they will undergo an inspection that can last up to an hour," Holland added. "With driving time being limited, once that happens, staying on schedule can be nearly impossible for our drivers."