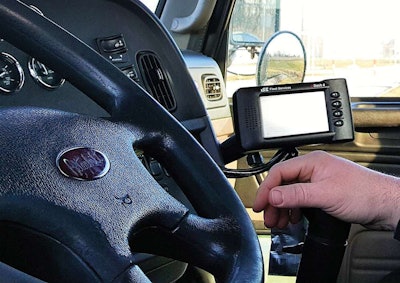 ISE, a Trimble Company, announced that its Fleet Services' electronic logging device (ELD) system, eFleetSuite, is self-certified and listed on the Federal Motor Carrier Safety Administration's (FMCSA) ELD online registry ahead of the December 18, 2017, deadline for commercial motor vehicle drivers to switch from paper logs to electronic logs.
"With over 15 years of compliance-focused transportation experience, ISE invested a great deal of time and resources to ensure eFleetSuite met the required specifications outlined in the FMCSA's ELD Final Rule, and is backwards compatible for those who have mixed ELD and Automatic On-board Recording Device (AOBRD) fleets," said Chis Nelson, vice president of ISE Fleet Services Division.
ISE offers an Android display that is ruggedized for commercial motor vehicles. The eFleetSuite application is designed for quick adoption by fleets and telematics service providers and consists of a mobile interface, a web interface, and an adaptable communications channel.
The ISE Fleet Services' ELD plugs directly into the vehicle's diagnostic port. The mobile interface automatically records driving status, calculates available driving time, and notifies the driver of their compliance status. Back-office reporting allows fleet personnel to make proactive decisions to avoid Hours of Service (HOS) violations and focus on resource optimization. The web interface provides the capability to view, edit, and print driver logs.