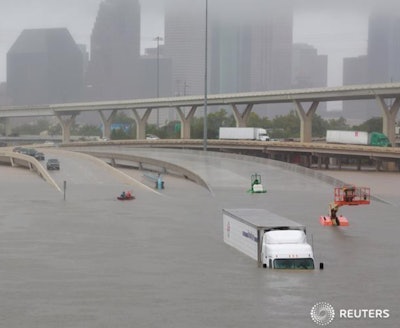 Embed from Getty Images
As expected, due to Hurricane Harvey and the destruction left in its path, load volumes going into and out of Texas are on the decline, but rates to the affected region are rising.
According to a seven-day rolling average maintained by load board DAT Solutions, van rates between Dallas zip codes and Seguin, Texas, zip codes (about a 250-mile run) have shot up 49 percent in recent days to a $3.46 per-mile average. Some loads were paying even more, $5.44 a mile, DAT notes.
"Only two business days of post-Harvey data are included in that seven-day average," DAT experts note. "So the rolling average is likely to continue rising before it returns closer to seasonal norms."
Freight availability both into and out of the region has fallen off. Loads inbound to Texas have dropped almost 20 percent, says Noel Perry, an economist for Truckstop.com and trucking research firm FTR. Such Texas-bound loads, however, are carrying higher rates — 25 percent higher than average, Perry says.
"Dry van moves have been more volatile," says Perry, "due to their flexibility. The reefer market is clearly traumatized. Farms are still producing, but why move goods towards a cold storage destination when power might go out and the stores might close?"
"Meanwhile, flatbed operators are eagerly planning around the prospects of rebuilding supplies. Specialty operators appear to be laying low."
Fuel prices likely to soar
Diesel prices are expected to climb in the coming days and weeks, says Chris Lee of ProMiles, who tracks national fuel prices daily. Lee is based in the Houston area and has been himself affected by the storm, so he hasn't seen data yet to confirm his assumptions. He predicts they'll follow the same trend of gasoline prices, which are expected to increase between 15 and 25 cents a gallon in the coming weeks, according to GasBuddy's petroleum analyst Patrick DeHaan.
"A similar change in diesel is likely," Lee says.
The nation's largest refinery, the Motiva plant in Port Arthur, Texas, and the second-largest refinery, ExxonMobil's in Baytown, Texas, are both shut down, along with 13 others, according to USA Today. DeHaan told the media outlet these shutdowns account for 25 percent of the nation's refining capacity.