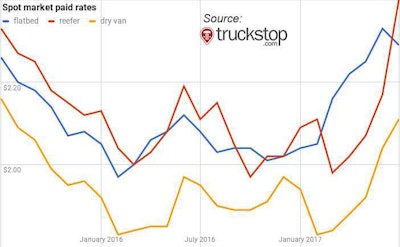 Per-mile spot market rates in van and reefer segments continued their recent hot streak in July, with both segments climbing to their highest point in two years, according to monthly rate data from Truckstop.com. Flatbed rates dipped a few cents in the month, but the segment's per-mile rate average remains at one of its strongest points since mid-2015, too.
Reefer rates, which have now climbed for four consecutive months, jumped 23 cents in July from June, to $2.40 a mile, according to Truckstop.com data. That's the segment's highest monthly average since May 2015. Compared to last July, reefer rates were up 29 cents.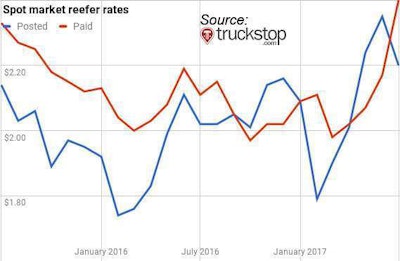 Van rates jumped 7 cents in the month, to $2.11 a mile. That's van's highest average since the same month in 2015. Compared to July 2016, van rates were up 16 cents, according to Truckstop.com.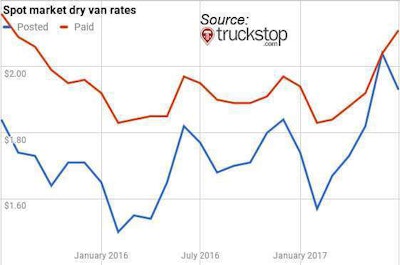 Flatbed rates slipped in the month, falling 4 cents to $2.29 a mile. That's 21 cents higher than the same month last year and the second best monthly flatbed average since June 2015.