CCJ's Indicators rounds up the latest reports on trucking business indicators on rates, freight, equipment, the economy and more.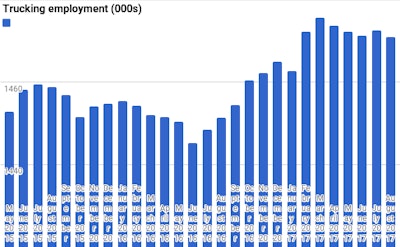 Employment in the for-hire trucking industry fell by 1,600 jobs in August, according to the Labor Department's monthly Employment Situation Report.
Trucking industry employment has been choppy the entirety of the year, having gained big in February and March before falling the last four out of the last five months.
The U.S. economy as a whole added 156,000 jobs in the month, and the country's unemployment rate held at 4.4 percent.
For-hire trucking industry employment totaled 1.471 million. That figure does not account for private fleet figures and is based on companies' payroll employees. Trucking employment was up in August about 20,000 jobs more than the same month last year.
The construction industry in August added 28,000 jobs. Manufacturing added 36,000 jobs. The transportation and warehousing sector, of which trucking falls under, added 1,900 jobs in the month.