Lytx announced Lytx Video Services, an integrated service enhancement to its DriveCam video event recorder and telematics safety system, to give fleets the option of reviewing extended video clip recordings from multiple locations around a vehicle.
The company says the new product can help eliminate "fleet and operations blindspots" such as cargo theft, workers comp claims, customer service issues like when a ready-mix concrete truck arrived to pour but the customer wasn't ready.
The DriveCam program with Lytx Video Services uses the new Lytx ER-SF64 event recorder equipped with features that include:
A driver-facing lens that captures only 12- or 20-second exception-based video clips, triggered when a driving event occurs, such as a hard brake or a sudden swerve.
An outside lens that has continually recording video plus the option to livestream video.
An onboard, cloud-connected digital video recorder (DVR) with a 64-gigabyte memory – enough to store video for about a week's worth of vehicle operations.
The advanced sensors used by other Lytx event recorders to capture critical data about driving events.
Connections to third-party PAL- or NTSC-based cameras, including those already installed on client vehicles, enabling 360-degree views in and around the vehicle.
With the addition of a small piece of hardware called the Lytx Hub, Lytx Video Services can accommodate up to 12 additional camera views – four cameras per hub, and 3 hubs per vehicle — as well as the ER-SF64.
Data and video from the DriveCam program and Lytx Video Services are accessed via the new Lytx Workspace, a web-based command center, to manage fleet safety and operations functions. The Workspace has an enhanced DriveCam program dashboard with prioritized coaching events, at-a-glance driver ranking and more.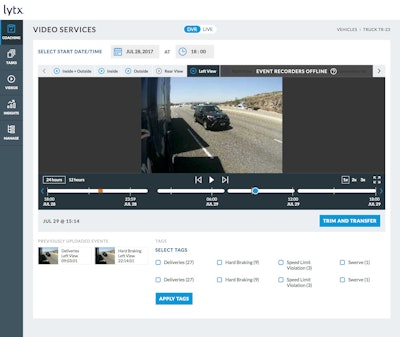 "No two fleet operations are the same, and that's why we engineered in the ability to customize services to solve a fleet's unique challenges," said Lytx Chairman and CEO Brandon Nixon. "The key, we discovered was giving our clients the ability to easily and quickly go back to a specific point in time to see exactly what happened, from any view they desired."
Lytx says its configurable system lets users tag critical events and create custom configurations to organize video to more simply search and find video clips related to specific tags. From there, users can choose the length of the video clip they desire, and download it without delay.
Lee Robledo, vice president of safety and loss control at NFI Industries, said that Lytx Video Services has helped NFI be more efficient in ways they hadn't anticipated.
"We've had the experience where our managers have gone to a live feed once they've been notified by their driver that they're having an issue with the customer," he said. "Now you have concrete proof that you can talk to your customer about."
Lytx Video Services will be available in the first quarter of 2018, the company announced.