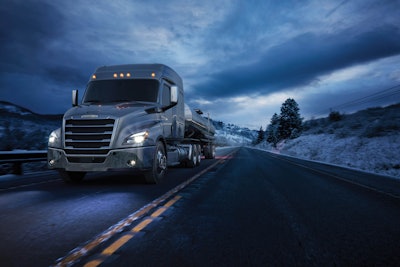 Freightliner is adding a mid-roof cab configuration for its Cascadia the company announced Monday at the North American Commercial Vehicle Show in Atlanta, including 48-, 60- and 72-inch mid-roof XT sleeper cabs in both 116- and 126-inch BBC platforms.
All three configurations offer a choice of Aero or AeroX aerodynamic packages.
Customers can place orders now for delivery in January. Senior Vice President of Sales & Marketing for Daimler Trucks North America (DTNA) Richard Howard notes to-date, the company has received 25,000 orders for the new Cascadia.
"It took us 3 years [to reach 25,000 orders] when we launched the classic Cascadia," he adds.
Allan Haggai, DTNA marketing communications manager, says new features on the 116- and 126-inch platforms include a service-friendly electronic vault (eVault) that offers convenience and weather protection that increase uptime.
"It's housing all the electrical modules and making them easier to access," says Howard.
An all LED-lit interior and exterior lights is also available, as is an ergonomic dashboard and display screen. Detroit Connect and Detroit Assurance 4.0 have been integrated and the new truck design improves fuel economy compared to previous models.
A Driver Loft option is available in the 72-inch mid-roof XT configuration with a two-seat dinette/work table and opposing seating. The seats fold flat to allow a full Murphy-style bed to swing down.
Freightliner Trucks has also partnered with Hendrickson to offer the OPTIMAAX 6×2 liftable forward tandem axle on the Cascadia.
Offering a weight reduction of up to 400 pounds versus a comparable 6×4, the OPTIMAAX features automated controls that sense load capacity, either lifting or lowering the axle as-needed without driver input. A raised axle enhances traction and helps fleets that focus on weight reduction and want to optimize fuel efficiency. The OPTIMAAX 6×2 axle design is compatible with drum and air disc brakes, and the axle is fully welded, not bolted, offering additional strength and durability.
Detroit Connect Remote Updates will be available to Cascadia owners with Detroit engines next month. Kary Schaefer, DTNA general manager of marketing and strategy, says the over-the-air functionality, which includes parameter programming capability, gives fleets the flexibility to build their own profiles using the Detroit Connect portal, which they can use to update one truck, a set of trucks or their entire fleet.
Utilizing the Detroit Connect platform's cellular connection, fleet managers can change maximum road speed, maximum cruise speed, idle shutdown time, and idle shutdown minimum/maximum ambient air temperature parameters. Remote Updates is included with the base Detroit Connect package, which is available standard for five years with the new Cascadia, and will be retroactively available on all Detroit-powered new Cascadias.
Freightliner's severe duty lineup is also getting updated with six new product options: the Allison 4700 Rugged Duty Series (RDS) automatic transmission for the 114SD and 122SD; LifeGuard RollTek seats; improved routing and clipping; LED headlights for the M2 106 and M2 112; Bendix Tire Pressure Monitoring; and a low-profile 122SD auto hauler package that lowers the laden roof height to approximately 100-inches.
Also Monday, DTNA announced new options for its Western Star trucks.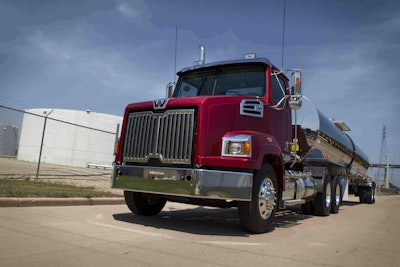 Available for 4700, 4800, 4900 and 5700XE models, Michelin's X Multi D tire is a factory-installed option targeting regional applications like dry van LTL, food and beverage, pick up and delivery, tankers, energy and construction.
Western Star 4700 Models can now be spec'd with factory-direct H4 halogen headlight bulbs, which provide a brighter light than regular incandescent bulbs for better visibility. Alternatively, 4800 and 4900 Models can get LED headlights factory-installed.
Western Star has also expanded the capacity of its in-cab battery box to hold up to four batteries. Available for 5700XE day cabs, the batteries are under the passenger seat instead of the side of the chassis. This option can help extend the life of the batteries by protecting them from extreme weather conditions, road spray and harsh chassis vibrations. The new options also allows customers to spec a tractor with a shorter wheelbase.