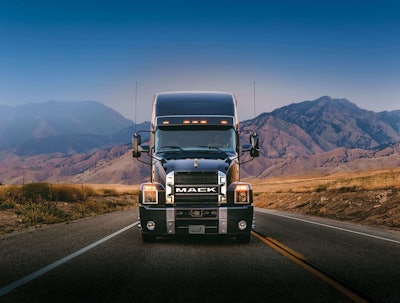 Mack launched its Anthem tractor less than two weeks ago and Jonathan Randall, senior vice president of sales for Mack Trucks North America, says the company has already received numerous inquiries from dealers and customers.
"Not only are we still maintaining our strong position in construction and refuse, we're growing marketshare in the regional haul and now we are a strong consideration with the Anthem in the long haul business," Randall says. "We're being asked to quote business that previously we probably wouldn't be asked to quote."
Mack underwent a branding relaunch in 2014, and the Anthem is the first product fully developed under that initiative, which placed greater emphasis on providing solutions to customers' top concerns.
Bendix Wingman Fusion, a camera- and radar-based driver assistance solution, will be a factory-installed standard on all Anthem models, Mack announced at the North America Commercial Vehicle Show in Atlanta Tuesday. Fusion provides collision mitigation, adaptive cruise control and lane departure warning, assisting drivers in staying safe on the highway. Fusion gathers input through radar, camera and the braking system, enabling multi-system integration and intelligent communication among components.
"All of this is standard to keep our drivers safe and everyone else on the road safe," says Roy Horton, director of product strategy for Mack Trucks.
Wingman Fusion will be installed at Mack's Lehigh Valley Operations in Macungie, Penn., where all Mack truck models are assembled. Since 2014, Mack has invested $84 million in this facility for assembly process improvements, new IT, and equipment and tooling.