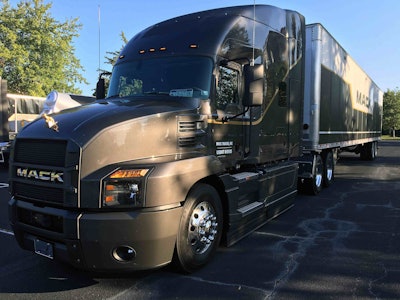 After more than a decade on the highway, Mack's Pinnacle tractor will yield its position as the company's flagship long-haul truck next model year.
Anthem – a tractor that made its debut last week and will replace the Pinnacle axle back models that have helped Mack carve out about a 2 percent share of the long-haul segment – is the company's next-generation on-highway truck, offering a unique mix of legacy styling and modern engineering.
Mack-like look with aero performance
The exterior of the Anthem bears little resemblance to the model it will supplant, but it does manage several nods to Macks of years past. Anthem's large, structural and beefy grille is reminiscent of a SuperLiner, and the truck's flat, chiseled fenders are a throwback to the RD Model.
"The whole goal was to design something that looks like a Mack," says Stu Russoli, Mack's highway marketing manager.
"We wanted a dramatic, new, efficient design that screams strong and hard working and Mack," adds Mack Trucks Vice President of Global Marketing John Walsh.
Mission accomplished on all fronts.
There's a lot of tradition in this new design – the name Anthem itself is a reflection of the company's commitment to American manufacturing – but it offers plenty of modern benefit. Mack designers and engineers used advanced computer modeling and coast-down testing at Kennedy Space Center to put together body lines that reduce aerodynamic drag by 6 percent and help improve fuel efficiency by up to 3 percent versus a similarly equipped Pinnacle.
Those flat fenders help throw air down the side of the trailer, decreasing aerodynamic drag.
The slanted hood slopes upward as it approaches the windshield to toss air over the truck, and the deep slope of the hood also improves visibility.
The sun visor is designed to cut through the air without creating turbulence, and from there, air passes over a one-piece composite roof that smoothly moves air over and around both the sleeper and trailer. A roof fairing with an adjustable tab helps improve airflow from the cab to the trailer on the 70-inch stand-up sleeper.
Hood-mounted mirrors sit up high, decreasing wind resistance by pushing air around the door mirrors. The hood mirrors offer a wide panoramic view on either side of the truck, practically eliminating blind spots and picking up passing vehicles before they ever reach the trailer.
The hood mirrors are large, and you can spec them off the truck, but I found them a handy complement to the door mirrors. Under most circumstances, vibration was minimal and noticeably less than more traditional tripod fender-mounted mirrors. They also feature a breakaway design, allowing them to fold in upon impact and lessen the likelihood of damage.
Anthem's hood and bumper not only improve aerodynamics, they also help cut service time. Both feature a three-piece construction. A new central hood-latch release below the grille eliminates the need for drivers to walk from side to side to tilt the hood forward; the hood now requires 50 percent less effort to raise.
A close-out flange prevents airflow between the hood and bumper and helps move air around the cab. Covered tow hooks cut wind resistance, and the bumper and bumper air dam help reduce air drag underneath the truck.
Keeping air attached to the truck also makes the interior quieter, which made my two-day 850-mile drive from Allentown, Pa., to Atlanta feel less mentally taxing. You could talk in a normal volume and hear CB chatter and the radio clearly without amping up the volume to obnoxious levels.
Anthem gets an LED makeover inside and out. New LED headlamps are 66 percent brighter, almost doubling low-beam lumens while providing a wider, whiter light with lower electrical draw and longer service life.
Designed for drivers, by drivers
Mack's newest on-highway tractor may have debuted only a few days ago, but it's been part of the company's long-term product strategy for the last several years. The truck's design process started about five years ago with driver surveys.
Mack designers and engineers crawled through any truck they could get their hands on at truck stops, asking drivers about the features they liked, the ones they didn't and what things they would like to see added or taken away.
Fleets spend upwards of $7,000 to recruit, train and onboard a driver, but industry turnover is more than 70 percent. With its fine-tuned interior and driver comforts, Mack hopes the Anthem model will help drive retention rates, drop total cost of ownership and drive the Pennsylvania truck maker's marketshare along the way.
The Anthem, now available for order with production scheduled for January, is available in day cab, all-new 48-inch flat-top sleeper and 70-inch stand-up sleeper.
The 70-inch stand-up sleeper – the largest offered on Anthem – is eight inches taller than Mack's previous mid-rise sleeper, and interior roof height at the driver's seat is a foot higher – 6'11″ at the driver's seat and 7'1″ at the rear of the bunk. It's this sleeper – thanks to its size and comfort – that Jonathan Randall, Mack's senior vice president of sales, thinks will help the company gain consideration in the long-haul segment.
I could stand comfortably between the passenger and driver seat and only gained more headroom as I worked my way back to the bunk.
The bunk is spacious and nicely appointed. The 70-inch stand-up sleeper has 35 percent more space than previous models and an additional 27 cubic feet of storage, including a three-compartment set of bins suspended under the bunk.
A panel mounted in the sleeper features power outlets, USB ports and controls to the sleeper stereo, interior lighting and high-performance HVAC system.
The bunk features dimmable pipe lighting around the perimeter of the driver environment, bunk task lights and overhead LED lights. The addition of LED lights make doing paperwork in the dark less of a hassle.
Built-in aircraft-style pulldown shades block 100 percent of the light and are screened with the window tilting out to let air in but keep rain out.
An updated automotive-inspired interior design keeps everything around the driver and has a wraparound cockpit-type feel. The Mack mDRIVE automated manual transmission shift pad is pushed higher on the dash and closer to the driver. Laser-etched rocker switches have been repositioned higher on the dash, while some switch functions – like the wipers and engine brake – have been eliminated entirely and moved to stalks behind the flat-bottom steering wheel.
I've never liked having basic driving functions located off the wheel. With its model-year 2019 design, Mack has put them in a much more intuitive place.
The flat-bottom steering wheel – an industry first – gives the driver more space between their lap and the bottom of the wheel, making swinging in and out of the truck easier, especially when the seat is fully inflated.
I prefer to drive with the seat close to the wheel and with the wheel dropped low. The flat bottom allowed me to bring the seat further forward and lower the wheel without having to change my natural position in the seat. This feature should allow larger-stature drivers to find a more comfortable driving position, or at least give them the opportunity to move closer to the wheel than they have previously.
The new steering wheel also contains illuminated controls for cruise control, Bluetooth and the audio system.
Behind the steering wheel rests Mack's updated five-inch full-color Co-Pilot display. Co-Pilot provides drivers with vehicle information monitoring, including engine and oil temperatures, trip odometers, aftertreatment status and tire pressures. A Pre-Trip Assistant helps guide drivers through inspection points and includes an exterior light inspection mode, which will activate the truck's lights for a walk-around inspection.
Climbing in and out of the truck, you first notice the grab handle has been moved lower off the A-pillar, making it easier to maintain three points of contact.
Engineered for Mack power
As Anthem inherits the moniker of Mack's newest "Highway Hero," it also becomes the torchbearer for the company's integrated powertrain.
As with all Mack trucks, the mDRIVE automated manual transmission comes standard. In Anthem's case, it's a 12-speed. When fully integrated with an MP engine, the mDRIVE uses sensors to detect speed, load and grade to ensure optimal gear and shift points are selected based on conditions.
Mack's reinforced and ruggedized mDRIVE HD AMT is available as an option on all Anthem models, including 13- and 14-speed variants that add one or two low-ratio creeper gears. Creeper gears offer low-speed maneuverability while also allowing for lower rear-axle ratios for better fuel economy at highway speed.
Mack's Predictive Cruise is available on mDRIVE-equipped models. Mack Predictive Cruise learns the topography of a given route and stores up to 4,500 hills in its memory. The next time the driver travels the route, Mack Predictive Cruise deploys an optimized shift strategy and chooses the most fuel-efficient gear, helping improve fuel efficiency by up to 1 percent.
The Anthem is available with Mack's MP8 13-liter engine with up to 505 hp and 1,860 lb.-ft. of torque depending on spec. The 11-liter Mack MP7 is available as an option, with up to 425 hp and 1,560 lb.-ft. of torque. Mack's SuperEconodyne downspeeding packages are available with both engines.
Also available as an option is Mack's turbo-compounding MP8, which captures and converts waste energy from the exhaust into mechanical energy that is fed back to the engine.
The turbo-compounding MP8 made its debut this year, but order rates to-date have been low given Mack's low truck order volume from the long-haul segment – the application where this engine setup makes the most sense and strongest business case. The turbo-compounding system puts up to 50 additional "free" horsepower back to the crankshaft. Combined with the Anthem's aerodynamic improvements, the turbo-compounding MP8 engine provides up to an 11.8 percent improvement in fuel efficiency compared with a baseline from previous Mack models equipped with GHG 2014 engines because the turbo compounding setup needs less fuel to make maximum power.
At 445 hp and 1,860 lb.-ft. of torque it's a solid performer. Fully loaded, I routinely got full torque at less than 1,000 rpm, and the reduction in the number of downshifts at cruising speed was noticeable. It's a smart and intuitive setup that really shines on long stretches at highway speeds.
Added connectivity and safety
Anthem also will ring in the Mack Connect platform, which will serve as the reference for Mack's expanding connectivity and uptime services. Mack Connect will structure current and future services under Connected Support, Connected Business and Connected Driving. Using predictive analytics and connective technologies, Mack Connect uses data produced by the truck, the driver and the service process to form insights and actions.
Under Connected Support, Mack GuardDog Connect proactively monitors truck performance and automatically notifies Mack's Uptime Center when a potential issue is detected. Under Connected Business, GuardDog Connect can send vehicle data directly to Mack's fleet management partners, allowing customers to choose fleet management software that works for their business without having to rely on third-party hardware installations. Connected Driving covers the truck's information and entertainment options, including Bluetooth connectivity, satellite radio and Apple CarPlay integration.
Bendix's Wingman Fusion camera- and radar-based driver assistance system comes standard on all Anthem models, providing collision mitigation, adaptive cruise control and lane departure warning.
The adaptive cruise control is handy on long drags of highway. Its ability to maintain a given speed, account for over- and under-speed and maintain a safe following distance helps keep the driver from switching off cruise control with constant braking, which is annoying and not fuel-efficient.
Loaded to about 77,000 pounds gross, I drove for many long stretches with adaptive cruise engaged and was impressed by the system's ability to make adjustments on the fly while safely maintaining my speed preferences. It was just another impressive feature in an overall impressive truck that translates to an impressive driving experience.
What Mack has done with its Anthem is taken one of the best drivelines on the highway, wrapped it in a chiseled and surprisingly aerodynamic package and thrown in added ergonomics and comfort not widely associated with a Mack.