Stay Metrics today announces the rebranding of its online driver training platform to reflect the distinct packages it offers for driver onboarding, safety, and health & wellness training.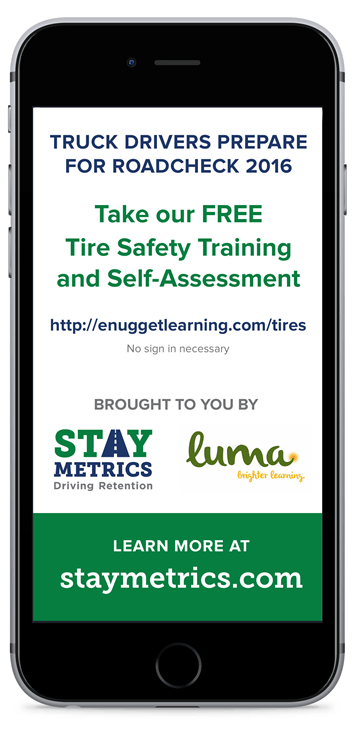 The company says driver training is a key component of the evidence-based driver engagement, research and analytical products it provides to motor carriers that focus on driver retention.
Stay Metrics now offers the following training collections individually or as a complete platform through a subscription model:
DRIVE FIRST — an orientation onboarding solution with digital employment forms, nearly 100 driver training modules and online assessments.
DRIVE SAFE — a safety training collection of 48 modules that prepare drivers for consistent industry challenges and new regulations.
DRIVE FIT — a collection of 26 modules covering a wide range of health and wellness topics that include financial wealth, mental well-being, and eating and fitness.
"Our training collections are thoughtfully designed and executed to give drivers an engaging and rewarding learning experience," said Tim Hindes, co-founder and chief executive officer of Stay Metrics. "Additionally, carriers can increase driver engagement by using the Stay Metrics rewards platform to offer rewards and recognition to drivers for completing assigned training topics."
Stay Metrics is partnered with Luma to deliver the training as eNuggets that break down essential content into short, interactive modules that help drivers remember what they have learned.
"We use research-based instructional design methods that keep drivers engaged in learning," said Dr. Gina Anderson, chief executive officer of Luma. "We also collect data and feedback from drivers and use this to inform how we create and deliver training. Our methods ensure the content is always current and relevant to drivers and is delivered in ways they prefer."
Data collected by Luma show the eNuggets consistently receive high ratings from drivers, with an average rating of 4.3 on a scale of 5.
New topics are added to the collections every month, and carrier administrators can efficiently assign training to individuals or groups of drivers on a scheduled or remedial basis. They can also view driver performance data using the online platform. Likewise, drivers can login to their carrier's training portal to view personalized learning records and track their progress.
In March, 2017, Stay Metrics announced that Load One, LLC, an industry leader of time-critical transportation and logistics solutions, and PS Logistics, one of the largest providers of flatbed transportation and logistics, selected the DRIVE SAFE and DRIVE FIT platforms. In September, Stay Metrics announced that Load One chose the DRIVE FIRST onboarding solution as well.