Stay Metrics, a provider of evidence-based driver engagement, training and retention products and services for the transportation industry, announced a new driver orientation and on-boarding platform for motor carriers.
Stay Metrics offers the new Drive First platform as a complete onboarding platform with digital employment forms, driver training modules and online assessments. The training collection has an expanding library of nearly 100 modules that cover a wide range of topics in important areas for driver orientation and onboarding, the company says.
All of the modules break down the essential training content into short, interactive learning experiences designed to get the attention of drivers and keep them engaged. Carriers are able to assign training to drivers to complete pre-arrival to orientation, in the classroom and at any point during the onboarding process.
"An effective orientation and on-boarding program has far-reaching effects on driver safety, compliance, customer service, retention and many other critical areas," said Tim Hindes, co-founder and chief executive officer of Stay Metrics. "Drive First gives carriers a way to engage drivers from the start with an enjoyable and rewarding learning experience that sets them up for success at their new companies and the trucking industry."
Carriers are able to edit the training content in Drive First to match their company-specific policies and custom-brand the platform with their own logo and colors.
Load One, LLC, an industry leader of time-critical transportation and logistics solutions, is using the new platform to engage new drivers before they arrive at its office in Taylor, Mich., for orientation meetings.
Load One awards its drivers points for completing orientation training. Drivers can redeem these points towards non-cash items through its online Gold Rewards program, a custom version of the Stay Metrics Driver Rewards platform.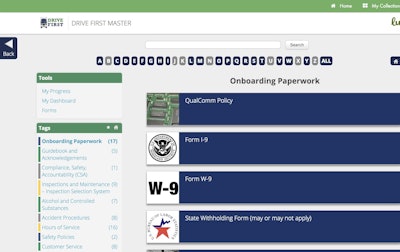 "Drive First fits with the purpose of our Gold Rewards program. We reward and recognize drivers for doing things they have to do anyway," said John Elliott, chief executive officer. "We show drivers this philosophy right from the start, and drivers also respect the fact that we value their time with an efficient and effective orientation process."
Carriers can use the Drive First platform to set up training for different groups of drivers. Load One has training groups for drivers that operate non-CDL vehicles, transport hazmat shipments or cross international borders, among other specialized training needs.
Drivers can access the entire training collection at any time. A Load One driver, for example, may want to refresh his knowledge of border-crossing procedures after 45 days on the job.
"Having access to the online training resources instills a higher sense of confidence in drivers. They can find answers by themselves without calling dispatch or safety," Elliott explained. "This makes for a much better process."
Load One uses driver feedback interviews and surveys, advanced data analytics and predictive modeling from Stay Metrics to help retain more of its best drivers. The 400-truck fleet also uses the Drive Safe training collection from Stay Metrics for its ongoing driver training needs.
Stay Metrics developed the Drive First and Drive Safe platforms in partnership with Luma, a provider of engaging digital education solutions grounded in learning science.