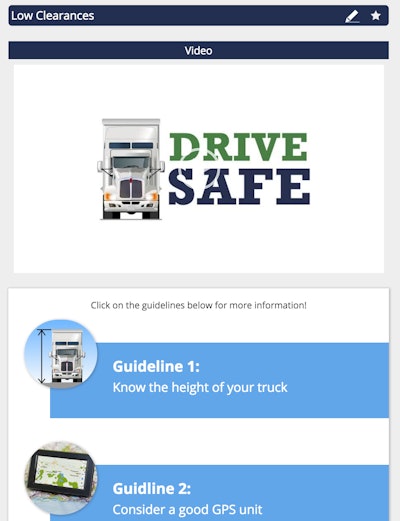 Stay Metrics today announced that Load One, LLC, and P&S Transportation have chosen its online safety training platform and content to engage their drivers with a more effective and rewarding learning experience.
Stay Metrics offers the Drive Safe library of online safety training modules to motor carriers as part of its privately branded driver rewards, recognition and engagement platform. The company also provides ongoing research and analytics that enable its clients to retain more of their best drivers.
"Everything that Stay Metrics does centers on increasing driver engagement by using the latest scientific methods. Their training platform is a big part of that effort. The modules are short, interactive and help drivers improve safety in a meaningful way," said John Elliott, chief executive officer of Load One, LLC, an industry leader of time-critical transportation and logistics solutions based in Taylor, Mich.
Stay Metrics develops the Drive Safe training modules in partnership with Luma, a provider of engaging digital education solutions grounded in learning science. Each module is no more than six minutes long and uses a combination of video, animation, text, audio and interactive game elements that cater to the unique learning preferences and learning culture of truck drivers.
Load One converted to the Stay Metrics training modules in January, 2017, from a different online training platform with content provided by another company. After the first month, the company saw a 14 percent improvement in the number of drivers completing scheduled monthly training. Elliott, who serves as an executive officer of the Truckload Carriers Association, expects the engagement will continue to increase.
P&S Transportation, one of the largest and fastest-growing providers of flatbed truckload transportation and logistics, plans to activate the Drive Safe training platform for all drivers on April 1.
Birmingham, Ala.-based P&S Transportation is the largest of eight companies owned by PS Logistics that will be converting to the Stay Metrics training platform. A total of 2,000 drivers at the combined companies will be using the Drive Safe training library. PS Logistics will also include some of its own internally produced videos.
"When reviewing the training that Stay Metrics provides, we felt that it engaged the driver and could produce more effective learning," said Johnathan Marshall, director of safety for PS Logistics. "We believe the level of driver engagement will continue to increase with the additional opportunities for points and education from the training."
Both Load One and P&S Transportation will reward their drivers for completing scheduled training and for many other activities through their privately branded rewards platform from Stay Metrics. Drivers receive points to redeem towards more than 4,000 non-cash items ranging from consumer goods to vacation packages from an online catalog.
"Load One and P&S Transportation share a deep commitment to the success, safety and well-being of their drivers. The Drive Safe training platform will strengthen their efforts to improve safety and to reward and recognize drivers for making positive contributions," said Tim Hindes, chief executive officer of Stay Metrics.