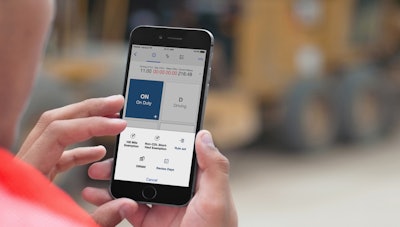 Industry expert and former administrator from the Federal Motor Carrier Association, Annette Sandberg, has verified that the Telogis Electronic Logging Device (ELD) software has met all federally mandated requirements.
Installation of an ELD has been mandated by the FMCSA to digitally capture and log commercial drivers' Hours of Service (HOS) before the Dec. 18, 2017 deadline. The Telogis ELD solution is also listed among providers having met mandate standards on the FMCSA website.
"The FMCSA's ELD self-certification process is important but it's not enough; our customers want to be sure providers have taken the necessary steps to ensure that they have a fully certified solution for the ELD deadline," said Erin Cave, vice president of product management for Telogis, a Verizon Company. "Annette Sandberg delivered unparalleled expertise and a comprehensive verification process, enabling our customers to have total confidence in the integrity of our solution."
Sandberg previously served as the Administrator for the FMCSA from 2003 to 2006 and is currently the CEO of TransSafe Consulting where she lends her industry knowledge to trucking companies seeking counsel on ELD issues and other industry-related topics.
"Earning a spot on the list of certified ELD providers ahead of the deadline is very important to customers and providers," said Annette Sandberg. "The mandated requirements can be quite complicated, and companies that have to meet this mandate need to know that their provider understands the critical nature of this mandate. After working with Telogis and conducting a comprehensive review of its ELD solution, I am confident that it meets every technical requirement."
The Telogis Compliance HOS application allows customers to record, transmit and store all HOS information according to the functional requirements as detailed in the official ELD mandate. Additional functionality includes Over-the-Air (OTA) updates, support for iOS and Android, multiple rulesets and exemptions – including the 150-air-mile non-CDL short-haul exemption and customizable Driver Vehicle Inspection Reports (DVIR).