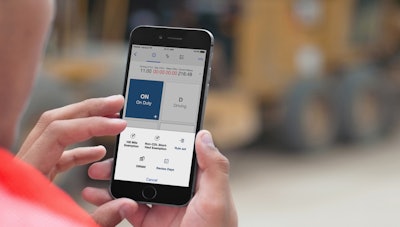 After what Telogis describes as a "rigorous development and evaluation process," the Verizon Company earned a place on the list of registered providers of Electronic Logging Devices (ELDs) by the Federal Motor Carrier Safety Administration (FMCSA).
Installation of an ELD has been mandated by the FMCSA to digitally capture and log commercial drivers' Hours of Service (HOS) before the Dec. 18, 2017 deadline.
The Telogis Compliance HOS application allows customers to record, transmit and store all HOS information according to the functional requirements as detailed in the official ELD mandate. As a cloud-based application, Telogis Compliance has Over-the-Air (OTA) updates, support for iOS and Android, and multiple rulesets and exemptions – including the 150-air-mile non-CDL short-haul exemption and customizable Driver Vehicle Inspection Reports (DVIR).
"The ELD mandate is on the minds of many of our customers, and the FMCSA certification is just one more way we're simplifying the implementation process and making sure they are compliant ahead of the December deadline," said Erin Cave, vice president, product management for Telogis Compliance and Navigation.
Existing and new Telogis customers who require ELDs can choose from a number of different bundles for hardware and monthly software subscription pricing that include telematics hardware and installation, onboarding assistance, ELD and driver vehicle inspection reporting (DVIR) software, two-way messaging, in-cab tablet mount, electronic tablet, Mobile Device Management (MDM) software, compliance reporting and more.