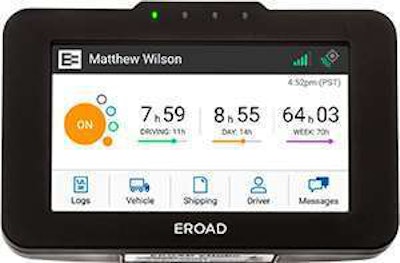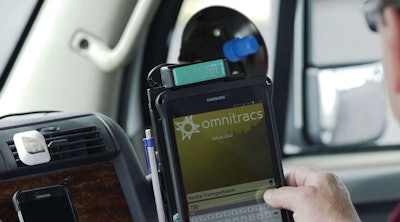 When Tradewind Logistics evaluated electronic logging devices, management wanted a platform that drivers could not easily remove from trucks.
"This was just to minimize loss and theft," says Benjamin Ramsay, vice president of technology for the Indianapolis-based truckload carrier. Ramsay is also co-founder of ELDRatings.com, a website that provides expert guidance and user reviews of ELDs.
"Looking back, I'm not sure how much difference it really made on that front, so in hindsight I might have valued the freedom to roam a little more highly," he says.
The benefits of a mobile ELD platform, he explains, are having drivers take pictures of defects for vehicle inspections and capturing images of proof-of-delivery documents. The same mobile hardware could also support signature capture or accident reporting, among other functions, he says.
Drivers could have visibility to their hours-of-service duty status and log "on duty" to attend a safety meeting as well. While there are benefits for having mobile ELDs there are also tradeoffs to consider.
Working outside the cab
When the Federal Motor Carrier Safety Administration published the final ELD rule in December, 2016, it required certain data fields to be automatically recorded whenever a driver changed duty status. This could only be done using ELD that have a connection to the vehicle's databus.
Since an ELD has to capture odometer readings, engine hours and other data when changing duty status, the rule led to questions about what types of functions drivers could perform outside the cab?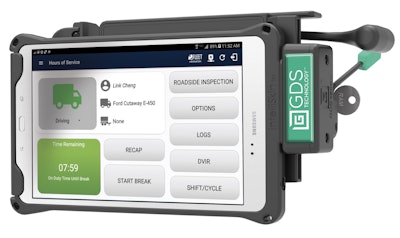 "The FMCSA really didn't appreciate that there are scenarios where a driver operates away from a vehicle," says Soona Lee, regulatory compliance manager at EROAD, a provider of fleet management, electronic tax reporting and ELD compliance systems.
During a May, 2017, meeting with the FMCSA, some ELD vendors asked the agency to clarify the rule's technical specifications. Could drivers log on duty from a mobile device while in the office at a training meeting, for example? The FMCSA responded by confirming that drivers would be able to change status from on-duty to off-duty, and vice versa, outside the vehicle.
Companion apps
Once this clarification was made, EROAD decided to develop a driver portal to supplement its in-cab platform, Lee says. The company designed an ELD product that is tethered to the vehicle and communicates data through a wireless connection to a server in the cloud. Its new driver portal will soon be connected to the same server to allow drivers to update their duty status and provide visibility of time remaining on their clocks from any device that has an Internet connection, Lee said.
A number of ELD providers have taken similar approaches to combine tethered devices with mobile apps that drivers can use on personal devices for visibility of logbook data.
PeopleNet has a companion app, Connected Driver, that gives drivers visibility to duty status information. By installing the app on their personal devices, drivers are connected to the same cloud-based system as PeopleNet's in-cab and fixed mounted devices.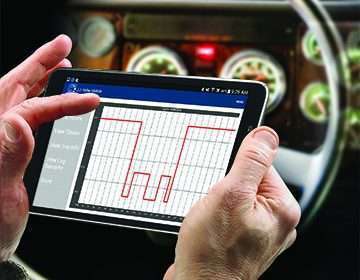 PeopleNet offers mobile devices that can be used outside the vehicle, but the reasons fleets choose its Tablet or certified mobile devices like the Samsung Tab are to run PeopleNet and third-party workflow applications such as scanning freight or signature capture, says Eric Witty, vice president of product management.
Omnitracs is designing a new helper app with mobile visibility of hours-of-service status. The app will supplement its ELD-compliant products that include the IVG and XRS platforms, says Tom Cuthbertson, vice president of regulatory affairs.
In designing a helper app, Cuthbertson says Omnitracs and any vendor that does so has to be careful to not add much functionality to the app beyond visibility.
"The ELD requirements are there, and if you add too many functions, the app has to be a certified ELD product," he says.
Connectivity issues
One area where a mobile ELD platform can be problematic is with the connection between a vehicle ECM and mobile app. Many systems use a gateway or reader device that connects to the diagnostics port. This device has to share data with a mobile device through a short-range wireless network — typically Bluetooth.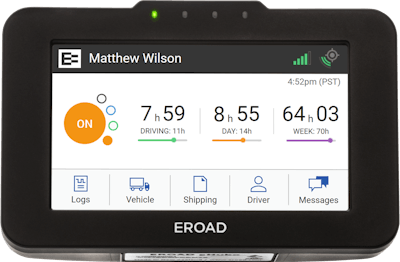 When the mobile app is away from a vehicle for an extended period of time, the driver may need to log back in to re-establish the Bluetooth connection. When evaluating mobile ELDs, Ramsay recommends looking at how the mobile application syncs with vehicle data. There could be issues with maintaining and resuming a Bluetooth connection, he says.
Connection failures can cause an ELD to malfunction and report a data diagnostic issue. Such instances have to be recorded on a driver's log and be visible to an inspection officer. This could potentially result in drivers getting HOS violations, she says.
The Omnitracs XRS system uses a Bluetooth connection between its gateway device, called Relay, and its mobile app. If a device is out of range for a few hours, the driver may have to press a few buttons on screen to marry up the device again, but for shorter periods like walking around truck or going to lunch the system "has knowledge you were there," Cuthbertson says.
One way to work around the short-range connectivity issue is a cloud-based ELD platform that has separate cellular connections to a server from the vehicle and from the mobile app. Transflo Telematics' ELD platform has this setup with a small reader device connected to the vehicle's databus that transmits odometer, mileage and other telematics data to a server through a cellular modem.
Likewise, the Transflo Mobile app with ELD runs on a mobile phone or tablet and has a separate cellular connection. Both the in-cab reader and the mobile app are connected to the same server in the cloud, which eliminates the need to establish and maintain a short-range wireless network.
Besides having a Bluetooth connectivity option, the KeepTruckin ELD platform has a USB option on its reader device that allows drivers or fleets to plug their mobile devices to establish the connection and keep their devices charged. An LED light on the reader device confirms the connection is made using Bluetooth or USB.
The ability to change duty status away from a vehicle is one of several functions that drivers can perform using a mobile ELD.
With J.J. Keller's Encompass platform, drivers can approve or reject logbook edits, certify and submit their logs, and have visibility to duty status and time remaining on their clocks, says Tom Ditzler, director of technology solutions for product management.
Another remote function available in mobile ELDs lets drivers put their device into a roadside inspection mode to lock out the app to functions other than viewing a recap summary of the driver's last 8 days of log activity.
Data privacy
One of the tradeoffs of using mobile ELDs, especially those designed to run on drivers' personal devices, is that drivers may not be comfortable handing their smartphones or tablet device to an inspection officer.
"Those are the kind of tradeoffs we thought about when developing a solution," says EROAD's Lee.
Tethered ELD platforms do not use the driver's personal device as the display which eliminates concerns of data privacy, but mobile platforms can also allow drivers to wirelessly transmit their HOS records to inspection officers through email, she explains.
For the most part, ELDs are no different when deployed on a mobile or tethered in-cab platform. Considering the added benefits and conveniences of mobility, fleets have to consider if the tradeoffs of allowing drivers to use company-owned devices outside the cab are worth the returns.