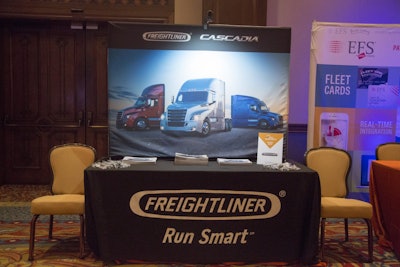 CCJ Solutions Summit attendees will have the opportunity to meet with one of several suppliers that will be on hand for the event to discuss any issues relating to the products the companies manufacture.
The Solutions Summit, open to fleet management, is scheduled for Nov. 13-15, in Palm Springs, Calif., at the Hyatt Regency Indian Wells Resort and Spa, outside Los Angeles. Registration is available here for $495, which includes all sessions, meals and the golf or Jeep tour activity.
Suppliers that will be in attendance include Shell Lubricants, focusing on energy efficiency; Minimizer, talking about truck accessories; Lytx, representing video fleet management; Hanksugi Japan Tires, focusing on tires; Freightliner, taking meetings about specialized trucks; and Cummins, keying in on diesel technology.
When attendees go to register for the event, they will be asked which supplier they want to meet with, and a meeting will be set up during the 10:30 a.m. block on Tuesday, Nov. 14.
A full agenda for the event can be seen here, and registration is available here.