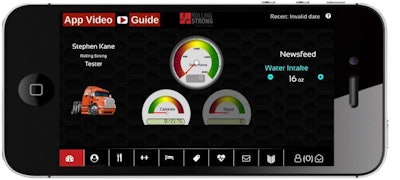 Rolling Strong, a driver wellness program management company, has introduced its new Rolling Strong interactive driver health and wellness app, available on both iOS and Android devices. The app is scalable and driver-centric, designed for the needs of professional drivers and commercial fleets.
The app allows drivers to log their daily sleep, water consumption, caloric intake and exercise activities and track performance on a real-time basis. In addition, it works with wearable activity tracker devices including Fitbit and Garmin to capture biometric and exercise data.
Features include nutrition guidance that offers meal suggestions and predictive nutrition based on location and exercise programs with guided workout routines tailored to drivers in and around the truck.
The app also includes the ability for drivers to engage in fitness competitions with other drivers within their fleet or external drivers using the app. Points can be redeemed at truck stops and other restaurants within the network for merchandise, food and free Wi-Fi and showers.
Steve Kane, Rolling Strong president, said truck drivers are twice as likely to be obese, have diabetes and hypertension compared to the general U.S. population. With a current shortfall of roughly 100,000 drivers, Kane said nearly 200,000 drivers in the last four years have been disqualified from driving trucks due to a medical condition.
"There has been a lot of lip service about helping drivers and addressing the health problem," said Kane. "The nation's 3.5 million commercial drivers face challenging conditions, including sitting in a sedentary position for long hours, lack of exercise and sleep and limited access to health choices. In addition to the health and wellness issues drivers face, the cost to carriers is seen in higher turnover, injuries and accidents. The new Rolling Strong app extends our efforts to provide a highly effective mobile health and wellness platform for the trucking industry."