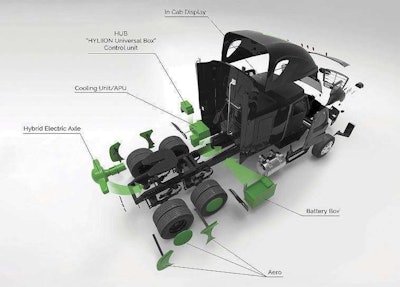 Hyliion announced it is moving into production next month for its 6X4HE retrofit solution for long-haul trucks that uses hybrid electrification to deliver fuel savings, lower emissions, instant telematics and a better driver experience.
The 6X4HE's battery pack stores 8 kW of electrical power and mounts to the tractor's frame rail in place of an auxiliary power unit. As the tractor approaches an inclined grade, the system delivers electrical power to the provide torque to the rear axle to save diesel fuel. On downgrades or when the vehicle slows down, the system captures regenerative braking energy to recharge the battery.
The 6X4HE replaces the rear axle in both 6×2 and 6×4 configurations. The company says the system, combined with wheel aerodynamics from FlowBelow, can increase overall fuel savings by 30 percent, including 15 percent from electric hybrid, 12 percent from APU replacement for hotel loads, and 3 percent from aerodynamic improvements. The APU leverages Hyliion's proprietary cooling system and battery to deliver 18,000 BTUs for 10 hours on a single charge and two in-cab electrical outlets.
Noting the short-range limitations of fully electric drivetrains, Thomas Healy, Hyliion CEO, said diesel-electric hybrids are ideal for fleets in over-the-road applications. Hyliion executives say the company has $20 million in preorders and is finishing a pilot program with Mesilla Valley Transportation, PAM Transport and Ryder. Last year, Hyliion launched a similar trailer-based system.