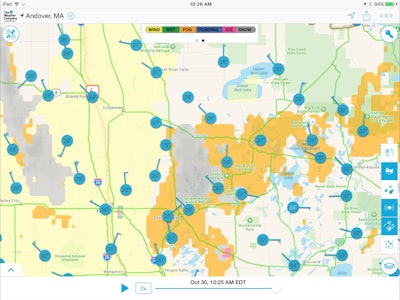 As winter approaches, more fleets will be using technology to more safely and efficiently route drivers in the path of inclement weather events.
Two fleets that have made big advancements in this area are Transport America and Covenant Transport.
Eagan, Minn.-based Transport America was awarded the 2015 CCJ Innovator of the Year for developing a truck-specific weather alerting system with ALK Technologies. In 2016, CCJ recognized Covenant Transport in Chattanooga, Tenn., as an Innovator for creating a weather routing system to keep its drivers and cargo safe.
One the most recent tools for drivers and fleets to plan routes in the face of weather events is the Operations Dashboard for Ground Transportation from The Weather Company, an IBM business.
The dashboard is a customizable software-as-a-service application that gives up-to-date weather and road conditions for precipitation, wind, fog, ice and pooling water. It also integrates real-time traffic flow and incident data, and flags safety hazards.
For more than 35 years The Weather Company has been developing planning tools for aviation. Pilots use a similar dashboard in the cockpit to visualize the latest weather observations and reports. Similarly, truck drivers and fleets can use an app to plan routes using live traffic and information on weather events.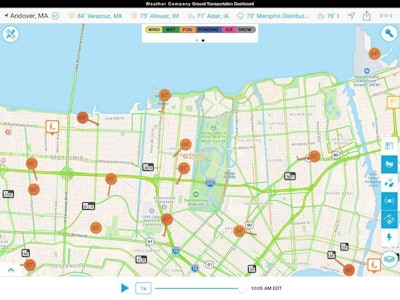 To simplify the planning process, the app has a Difficult Driving Index layer in the map that makes it easy for drivers to understand where the problem areas are up to six hours in advance.
"The app allows each user to personalize what is important," says John Bosse, offering manager, The Weather Company.
The Index has six variables that drivers care about, he says, which include fog, wind, ice, snow and wet road conditions.
The company says its Operations Dashboard for Ground Transportation is designed to provide input across the trucking and fleet organizations.
Dispatchers can see their network of vehicles and locations with a view of relevant weather, traffic, and safety information on each route.
Distribution Center Executives will have access to a dashboard-level view of weather and traffic that impacts the safety of relevant personnel and facility operations.
Drivers will receive live, location-based alerts for current locations and upcoming locations based on current trajectory. They will also have the ability to check weather and traffic while planning the day's travel and during breaks.
Additionally, dispatchers can set up individualized alerts of approaching hazards that are delivered via API to an in-cab or mobile device. This alerting capability can track a driver's trajectory and send alerts based on approaching weather. Weather updates are as frequent as every five minutes and down to a 500-meter resolution, the company says.