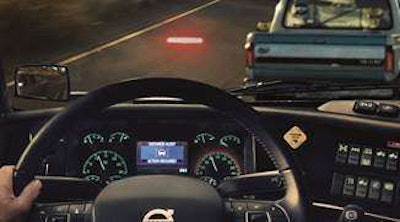 Building on the company's safety-first culture that dates back to 1927, Volvo Trucks announced its new Zero Accident Vision during an educational session at the 2017 American Trucking Associations Management Conference & Exhibition in Orlando.
"We should not accept any fatalities in traffic at all, and our vision means that no Volvo truck is to be involved in a traffic accident", said Carl Johan Almqvist, traffic and product safety director, Volvo Trucks.
Volvo's suite of safety systems to mitigate accidents include Volvo Enhanced Stability Technology full stability technology and Volvo Active Driver Assist, which includes Bendix Wingman Fusion, standard on the Volvo VNR regional haul series and Volvo VNL long-haul series tractors.
"Technologies can certainly help improve safety and show even greater promise in the future, but we must always recognize the human element in safety," said Almqvist. "I commend companies and programs that invest in identifying the importance of professional drivers and the significant role they play in all our lives. I strongly believe that drivers perform far better when they feel engaged, appreciated and a valued part of their company."
Recognizing that truck OEMs and safety systems suppliers can't achieve the goal alone, Volvo's Zero Accident Vision calls on politicians, public authorities and experts at universities and research laboratories to collaborate on solutions to eliminate accidents from roadways.
"All road users are part of the problem and we must all be part of the solution. Collaboration is key because no single entity can solve the problem alone," said Almqvist. "Eliminating traffic accidents requires truck manufacturers, authorities, infrastructure planners and other experts around the world to work together."
According to Almqvist, more than 1.2 million people are killed each year in road accidents globally. "Often times it's not until a traffic accident or fatality personally affects our lives that we take note of the problem," he said. "We know that about 90 percent of all accidents are a result of human factors, so real progress requires a change in mindset so we don't tolerate accidents and their contributing behaviors."