SmartDrive Systems announced that Decker Truck Line Inc., a family-owned company providing transportation and logistics services nationwide, has selected the SmartDrive video-based safety program. Decker Truck Line executives conducted a competitive review and after speaking with multiple existing SmartDrive customers, chose to forego a pilot program and install the safety solution across its entire fleet of 800 flatbed and refrigerated trucks.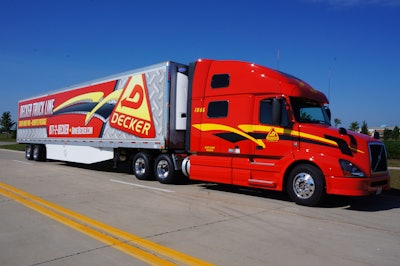 "We already knew we wanted a video-based system to boost safety and exonerate our drivers, it was just a matter of selecting the right program," said Joey O'Brion, vice president of safety at Decker Truck Line. "We really did our homework and contacted numerous SmartDrive customers about their experience, and the feedback was overwhelmingly positive."
O'Brion also noted the fully managed service of SmartDrive as a decision factor. SmartDrive expert analysts review and prioritize all recorded events, allowing Decker Truck Line management to concentrate on the most important, highest risk incidents, while saving time and resources.
Headquartered in Iowa, Decker Truck Line was founded in 1931 by brothers Loren and Dale Decker. More than 85 years later, the company is still in the family under the leadership of Dale's son, Don Decker.
The National Highway Traffic Safety Administration recently reported truck-involved fatalities are on the rise, with more than 4,300 fatalities in 2016 alone. In introducing the SmartDrive system to drivers, Decker Truck Line said its management was open and communicative about how the technology works, its benefits to drivers, as well as the value of the solution to the company as a whole.
"I think it's a great idea to have video safety technology in the trucks," said Sheldon McAfee, a Decker Truck Line driver who has been a commercial driver for 18 years. "Given the road conditions and areas our routes go through, trucks are always a target. This is something on our side, working to protect us."
Before choosing to adopt the SmartDrive program, Decker Truck Line management surveyed company drivers asking their opinions about video-based safety technology, and the vast majority were in favor of it. Management also worked with the Driver Council Committee—a group of Decker employees that includes 10 drivers who meet to discuss company processes and procedures—to get their feedback on the program. All drivers on the council volunteered to be among the first to implement the technology in their trucks.
"Decker Truck Line is an excellent example of a company that truly puts drivers first," said Steve Mitgang, SmartDrive CEO. "We're pleased to have Decker Truck Line join the growing number of fleets adopting the SmartDrive video safety and analytics solution, and look forward to the new partnership."