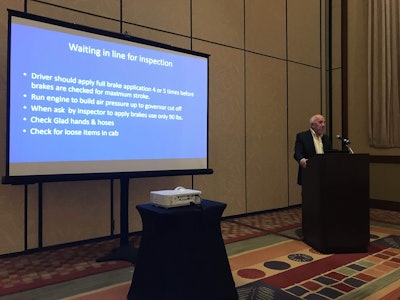 A fleet knowing its CSA score isn't as important as doing something about it according to Ron Szapacs, a fleet maintenance specialist whose career with Air Products & Chemicals Inc., spans nearly 40 years.
Szapacs, who led a breakout session on maintenance practices that lower CSA scores at CCJ's Solutions Summit in Palm Springs Tuesday, says the most critical part of the score is sharing the information it provides with everyone in the loop. He suggests reviewing CSA inspection reports with everyone from company executives to the maintenance group and drivers.
"The driver is very important in this score," he says.
Lights and reflectors take the first two spots in the top 10 list of most common road side violations, "and about half of [the top 10] should be caught by the drivers."
Drivers would be the first line of defense on lighting violations, improper tread depth, oil leaks, operating without a visible CMV sticker and fire extinguisher-related violations.
Pre- and post-trip inspections are critical to CSA score success, but Szapacs recommends making training a function of maintenance versus safety, and leaning on technicians to help train drivers.
"That guy has seen more issues on all your trucks than all your safety managers put together," he says, "and he talks the same language as the driver."
Once a violation is found, Szapacs says it's important go through the report to see what the fleet is being written up for and review the last preventive maintenance inspection.
"You can see if [the technician] checked that it needed repair or if he missed it," Szapacs says.
Any time a violation is found, the fleet should inspect similar units in the fleet for the same issue.
"If you find it on one or two trucks, chances are you're going to find it on the whole fleet," he says. "If you look at a whole series [of repairs] you might see a group of the same problems."
Szapacs suggests fleets review their preventive maintenance forms to ensure they include at least the top 10 most common CSA violations, adding managers should review repair orders to see what items are being repaired most often.
"It's about communication," he says. "You need good communication between technicians, the foreman and drivers."