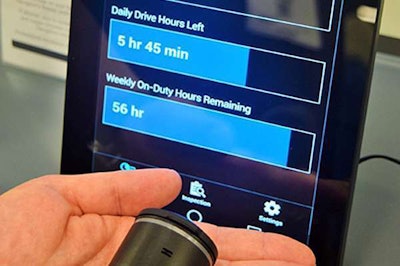 With just days remaining for carriers and drivers to transition from paper logs to electronic logging devices to comply with the federal government's mandate, adoption of the devices remains well below the 100 percent mark, according to polls conducted in recent days, including a poll by CCJ of its readers.
Of those who responded to an online CCJ poll, 68 percent say they have adopted ELDs fleetwide. Another 9 percent said they have adopted ELDs, but not fleetwide. CCJ's poll received 190 respondents in the one-day period in which it ran. Seventeen percent of those said they have not adopted ELDs but are subject to the mandate. Another 6 percent said they have not adopted but are covered by one of the mandate's few exemptions or compliance extensions.
Twelve percent of the total respondents said they have not adopted an ELD and in hopes the mandate would be delayed. Three percent of the total respondents said they haven't adopted ELDs because they can't afford to, and 2 percent said they haven't adopted e-logs and plan to gamble on not being caught or live with any fines or citations for noncompliance.
CCJ's internal polling is in line with ELD adoption stats reported this week by fleet surveying firm CarrierLists, who reported Monday that 74 percent of respondents to its most recent ELD compliance poll said they have adopted e-logs. CarrierLists also reported an adoption rate of 75 percent for fleets with 100 trucks or fewer.
However, survey results also released Monday by Help Inc.'s PrePass reveal an ELD adoption rate of only 51 percent.
PrePass' survey numbers are slightly more dated than CCJ's and CarrierLists, and PrePass is a supplier of an ELD product.
According to an online poll conducted by PrePass between Nov. 30 and Dec. 5, 49 percent of carrier respondents said they had not yet transitioned to ELDs. PrePass received 1,620 responses to its survey. Just 33 percent of respondents said they had chosen an ELD provider and had installed the devices, while 18 percent said they had selected an ELD vendor but had not yet installed the units.
Of those who had not installed an ELD, 68 percent said they didn't plan to prior to the December 18 deadline. Of those, 26 percent said they were still hoping the mandate would be delayed, and 31 percent said they plan to never adopt ELDs.
The noncompliance stats were more pronounced for owner-operators, with just 28 percent of owner-operator respondents to PrePass' online poll saying they were using an ELD.