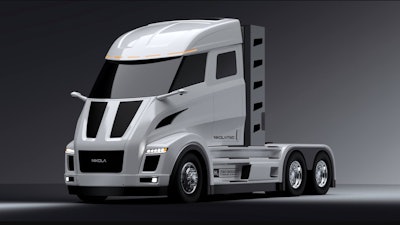 Trucking OEM upstart Nikola Motor Company got an infusion of trucking technology knowhow and cash Wednesday through a $10 million investment from Wabco Holdings Inc.
As part of the deal, in which Wabco receives a 1 percent equity stake in Nikola Motor Company, the two companies agreed to accelerate development of safety technologies specifically designed for electric commercial vehicles, including electronic braking systems and traction and stability control technologies.
Wabco Chairman and CEO Jacques Esculier says the investment in Nikola allows the company to be at the forefront of technology as vehicles become increasingly autonomous, electric and connected.
"We are excited to invest in Nikola Motor Company to help the industry realize our joint vision of electrified and autonomous trucks, buses, trailers and off-highway vehicles," he says.
Nikola Founder and CEO Trevor Milton says Wabco will be a vital business partner that enables autonomous driving, electronic braking, and stability control for trucks and trailers.
"Here at Nikola, we are driving a paradigm shift in the transportation industry by creating the most advanced semi-truck ever built," he says. "Wabco is recognized as a global leader in safety and efficiency technologies for next-generation commercial vehicles. We have added a world-class supplier to the Nikola truck family and are looking forward to our collaboration to bring Nikola's zero emission trucks to market."
Nikola expects to begin testing its zero emission trucks with fleets late next year and launch full production in 2021.