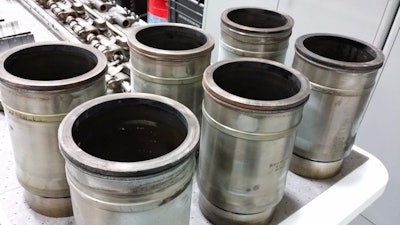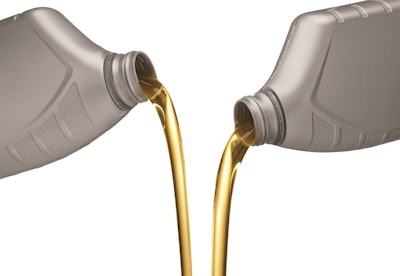 Note: This is the first of a two-part series on extending oil drain intervals. The second installment, "Extending oil drain intervals can disrupt PM schedules," will publish Friday. A three step guide on implementing an oil analysis program will publish tomorrow.
With engine oil and filter changes running upwards of $300 dollars at some service shops, extending drain intervals can be a big money-saver. However, fleets that don't wade into these waters carefully can destroy an engine and grind their operations to a halt.
When evaluating whether a fleet is a candidate for an extended oil-drain interval, Shawn Whitacre, senior staff engineer at Chevron, says it's important to ensure OEM recommendations are currently being met. He says smaller fleets tend to be more conservative with existing drain intervals, while larger fleets are typically the ones pushing the limits of oil life.
"A lot of times I find that [fleets] don't even realize that the recommendation is actually much longer than their common practice," he says. "In a lot cases [fleets] can comfortably, and with OEM endorsement, [extend oil drain intervals] without any special action."
"Maybe they're more conservative or maybe they just weren't aware of what the new recommendations are," adds Stede Granger, OEM technical services manager for Shell Lubricants. "The first place I would start if I was a fleet is just making sure what the recommendations are for that particular engine, and making sure I'm running that according to the fuel economy I'm getting."
It's also important, Whitacre says, to understand what determines the OEM recommendation and the roles application and idle time play in setting interval limits.
"That drives the fact that sometimes an engine may not be accumulating miles or hours but is still aging the oil to some extent," Whitacre says.
Granger says fleets should work with their OEM and their oil supplier when identifying a new mileage target, especially if the engine is still covered under warranty.
"Most OEMs do agree there is room to extend an oil drain but they want it done correctly, which includes looking at the oil analysis," he says.
John Moore, Volvo Trucks North America powertrain product manager, says fleets that wish to exceed the OEM's recommended 60,000 miles oil drain intervals using Volvo branded VDS4.5 can do so by submitting a request to Volvo Powertrain.
If conditions are met, an extension would be allowed requiring an oil sample analysis with the length of extension determined by Volvo fluids experts.
However, exceeding the oil change interval without consent from Volvo, Moore says, does constitute a violation of the warranty agreement.
Detroit offers a new maintenance interval for its DD13 and DD15. The "Efficient Long-Haul" oil change interval applies only to over-the-road duty cycles that exceed 7 mpg.
For the DD13 this means that it can travel up to 65,000 miles between oil and filter changes and up to 75,000 miles for the DD15.
Paccar's MX-13 and MX-11 engines come with a 75,000-mile oil change interval, up significantly from the 40,000-mile oil change interval on the MX lineup when it was first introduced in North America in 2010.
International's A26 engine offers a standard engine oil drain interval of 50,000 miles for customers with fuel economy greater than 6.5mpg. An extended oil drain program can allow for up to 70,000 miles if OEM approval is granted through oil sample analysis and review.
Similarly, Cummins' OilGuard program offers free oil analysis. Cummins personnel will analyze the oil and make recommendations on oil drain intervals, which Cummins says can be pushed upwards of 80,000 miles on newer engines depending on application.
Oil analysis is a tool helpful in determining the quality of an engine's oil and how much additional service life it can offer. A number of OEMs partner with customers on analysis programs to help evaluate qualifications for extended drain intervals.
"You evaluate wear metals and other things that characterize the condition of the oil at that extended service interval and make a determination if that's doable long-term," Whitacre says.
"As well as providing the opportunity to optimize oil change intervals, a good oil analysis program can also help to reduce unscheduled down-time, improve equipment reliability, extend equipment life and reduce maintenance costs," adds Brian Humphrey, OEM technical liaison for Petro-Canada Lubricants. "By evaluating the condition of your lubricant and equipment on a routine basis, minor mechanical problems are discovered before they become serious and expensive to fix."