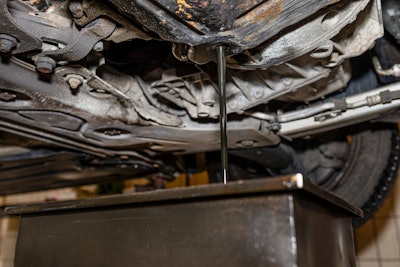 Extending oil drain intervals has been a hot topic for a number of years as fleets look to stretch more bang from their advanced engine fluid buck, but extending intervals doesn't necessarily mean exceeding OEM recommendations.
When the current generation CK-4 and FA-4 oils were released in late 2016, many engine OEMs boosted oil drain intervals for model year 2017 and newer engines by as much as 15,000 miles under certain conditions and duty cycles.
For large carriers – often emboldened by a more direct relationship with their OEM, which can give them certain advantages in maintenance practices – BP/Castrol Field Engineering/Heavy-Duty Technical Services Manager Jami Melani said the longer OEM intervals probably added an extra margin of security as many fleets were already extending oil drains well beyond OEM recommendations.
"At the other end of the spectrum, although it is hard to believe, there are still people changing oil at extremely short intervals," Melani said, "as low as 15,000 miles."
Several factors have led engine OEMs to sign off on extended drain intervals. Modern engines generate less soot and ultra low sulfur diesel fuel has lowered acid levels in oil, helping improve the oil's ability to protect metal parts. "It's a little milder environment in the crank case these days," said Stede Granger, technical services manager for Shell Lubricants. "Changing your oil doesn't hurt the truck a bit, but draining at 20,000 miles these days is really probably overkill."
Exxon Mobil Commercial Vehicle Lubricants Applications Engineer Paul Cigala said smaller carriers tend to be more conservative and hesitant to change cyclical maintenance intervals, even when the OEM says it acceptable to do so.
"To them, oil is a cheap option and they're willing to change it out early," he said. "[An oil change interval] either fits into their service intervals, their inspections … it fits into something. Hard to teach an old dog new tricks."
Melani said the "oil is cheap, just change it" philosophy was somewhat of a misnomer because the added expense of changing oil too early is multiplied by the carrier's truck count.
"For someone operating a number of units in an over the road fleet, this is an area that if not understood and adapted to can eat into the fleet's already razor thin margin," Melani said.
In terms of what is being "left on the table," Chevron Delo Commercial Sector Manager James Booth said attention is naturally drawn to the number of unnecessary drain intervals over the trade-in cycle for a fleet or life of the truck, but "often more significant in magnitude is the downtime and lost productivity – for both truck and driver – taking a truck to a maintenance facility, and the time for the oil service to be conducted."
Granger said other maintenance items on the truck often factor into a fleets chosen oil drain interval "because they want to optimize what they do on the truck when they bring it in," he said. "It's a balance of bringing the truck in too much and not bringing the truck in enough."
Cigala said fleets who want to take advantage of longer OEM-endorsed oil drain intervals may have to build other service intervals into the schedule so other maintenance items don't fall behind.
"Having an 'A service' and a 'B service' and even a 'C service' can kind of help fleets out to keep hitting those marks," he said. "Nobody wants to bring a truck in just to do an oil drain."
Building out a new service schedule could mean that fleets no longer perform all lube service on the longer interval.
"Fifty-thousand miles might be a fairly common [oil drain] interval out there," Granger said, "but there are certain points on the steering mechanism that requite a re-greasing at about 30,000 miles."
Grease absorbs contaminants and re-lubrication assists in grease circulation, "because it can get displaced into a joint and there's not a mechanism to put that back in," Granger said.
Cigala recommended fleets partner with a good oil supplier, "someone that understands used oil analysis," he said. "Walking through a used oil analysis report and showing them data gives them a little more peace of mind."
Darryl Purificati, OEM technical liaison, Petro-Canada Lubricants said by working collaboratively with technical experts, fleet owners and operators can introduce a used oil analysis program to monitor the condition and quality of their fleet's engine oil throughout drain intervals, alleviating some of the discomfort that can come with a fundamental change in maintenance. He noted fleets draining much sooner than the OEM recommended interval don't have to close that gap all at once.
"The used oil analysis program provides the crucial evidence that allows intervals to be extended without comprising engine protection," he said. "This is a gradual process, and we work closely with our customers to support them in adjusting their maintenance schedule and safely extending their drain intervals to optimize their fleet performance."
Booth said fleets already using an oil analysis program can review those results with their lubricant supplier to understand the reserve performance that exists when they drain early.
"If they don't use oil analysis, see whether the lubricant supplier can help set up a program," he said.
For the most cautious of fleets, Booth suggested a trial of extended drains on a small number of trucks – he recommended a minimum of three – "and based on results, expand to the rest of the fleet," he said.