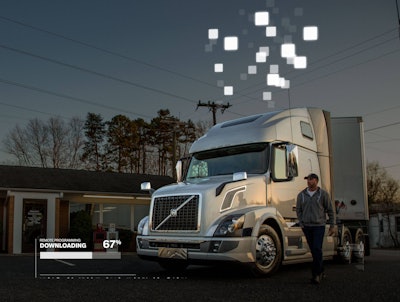 In a year that's seen the company roll out two updated tractors and a futuristic concept tractor-trailer, Volvo Trucks North America said Monday it's readying itself for the future of freight transportation. In a press update held at the North American Commercial Vehicle Show, Volvo recapped its busy year of updates, offering a bird's eye perspective of what the new technology means for the trucking industry and its future.
The company unveiled this year a refreshed VNL tractor for the long-haul market and a new tractor, the VNR, targeting the regional-haul segment. In March, the company debuted its SuperTruck tractor-trailer, a $40 million venture built via a partnership with the U.S. Department of Energy.
The Volvo SuperTruck achieved a 12 mpg average, and Volvo brought features developed as part of the SuperTruck's research and development to its current product line. Its 2017 D13 engine brings 7.5 percent better fuel efficiency than its 2014 predecessor, said Volvo's Magnus Koeck, VP of Marketing. The engine leans on features like turbo compounding, a form of waste heat recovery, and wave pistons to achieve its fuel economy gains.
The long-haul tractor powered by the D13, Volvo's new VNL, also "takes another step" in fuel efficiency, says Koeck. "This isn't a 6 mpg truck anymore," Koeck says of the sculpted aerodynamic unit. The VNL also features new exterior stylings, like an updated grille, and a refreshed and driver-focused interior. The company will be showing off the new VNL in a truck stop tour taking place between Oct. 3 and Oct. 14 in select truck stops across North America.
Take rates on the company's powertrain package, which combines the D13 and the I-Shift automated-manual transmission, are close to 95 percent, says Koeck. Take rates on the I-Shift alone are upwards of 90 percent. "Those are strong numbers," he said. "They're hard to beat."
Volvo also said it's pressing to connect more Volvo trucks to its Remote Programming platform, which allows over-the-air software updates and engine repogramming. The system aims to cut downtime and make it easier for Volvo trucks and engines to maintain up-to-date software. Currently, about 135,000 trucks are connected to the system, says Volvo.
The company made its remote diagnostics system standard in 2012. It launched the remote programming element earlier this year.
Eyeing the future of transportation, Volvo's Keith Brandis said the company is investing in three key technology areas — connectivity, electrification and automation — as well as the convergence of the three, which will create a "dramatical future," says Brandis.
Such technologies are still in a fledgling state, says Brandis, and much work needs to be done in the public and private sector before these systems come to market. But technologies like electrification, automation and connectivity can solve some of transportation's most pressing issues, such as congestion and gridlock, as well as safety.
"The future is coming and it's coming fast," says Volvo Trucks' President Goran Nyberg. "We're excited to find new ways to improve efficiency, safety and, above all, the productivity of the industry."