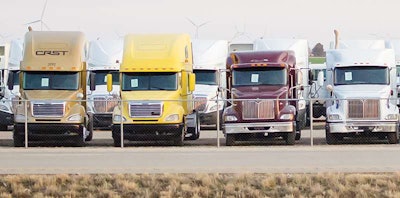 Truck dealers report improving used truck sales from early 2017 levels, but the market continues to be negatively impacted by large numbers of used late model aerodynamic sleepers in inventory that are hampering prices.
Class 8 same dealer used truck sales dropped 17 percent last month according to ACT Research.
"Seasonal weakness is not uncommon in early to middle fall," says Steve Tam, ACT Research vice president. "Some would argue this is due to buyers waiting for the more favorable pricing that sometimes occurs in December, due to dealers attempting to reduce inventory before year end."
"The good news is, buyers are more active now than a few months ago," Tam adds. "One issue impacting used truck sales is there is better communication about used truck prices than there was a few years ago."
The average price of total reported used Class 8 trucks fell 3 percent month-over-month in November, but were 1 percent higher compared to last November. Tam says year-to-date values continue to lag behind last year's prices, down 6 percent compared to the comparable period from 2016.