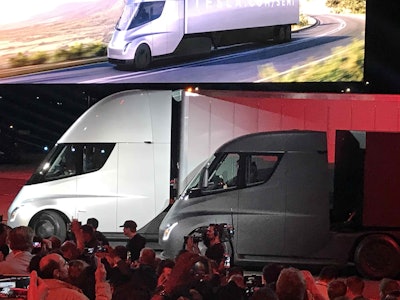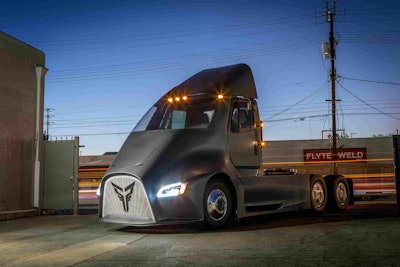 When Tesla's electric semi – a tractor Elon Musk himself says "handles like a sports car" – burst onto the scene in November, it did so with promises of a fully-loaded 0-60 time of about 20 seconds and an ability to "out torque any diesel semi."
Electric motors are known for the vast amounts of torque they can provide instantly but Tesla's Roadster, with its roller coaster-like 0-60 time of under 2 seconds, doesn't have a 40,000 pound trailer in-tow.
"Acceleration would be the worst-case scenario on the [fifth wheel] locking mechanism," says Shane Wolfe, engineering manager for Fontaine Fifth Wheel, "and [it] would put an increased amount of force on the jaws at that rate."
Even with the added force, Wolfe says the jaws are unlikely to fail, adding the structure of the fifth wheel itself – including the frame assembly – could likely withstand significantly more of torque.
"I would have no concern with the function of the fifth wheel or lower mounting structure attached to the frame of the truck with 60 mph over 20 seconds," he says, "considering that there are many instances in braking where the truck goes from 60 to 0 in much less than 20 seconds with no adverse effects on the fifth wheel structure."
When speaking to the higher torque output, SAF-Holland Vice President of Engineering Mark Molitor, says the concern would be focused on the impact of drawbar pull loads, adding the company has been designing fifth wheels and kingpins for years that perform in robust applications that experience significant drawbar pull loads, like road trains in Australia and sugar cane field operations of Central and South America.
Torque in an electric motor can be software limited, as is the case with Nikola's electric powertrain tractor, but Mark Ehrlich, director of Wabash National's van product line, says a trailer could safely withstand a 20 second sprint to 60 mph – roughly a third of the time it takes a diesel to reach the same speed.
"You're probably not going to generate more sheer than what you would in a breaking event." he says. "Sixty to zero is much faster than the acceleration to 60. It would be awfully hard to sheer that [king pin] material at that potential acceleration."
Force generated during acceleration, Ehrlich says, averages about 9,300 pounds.
"We do a fore-aft test on the kingpin that applies 26,000 lbs. for 500,000 cycles," he adds. "Doing quick math, it would take 113,000 lbs. to shear the kingpin."
Jeff Bennett, vice president of engineering for Utility Trailer, owns a Tesla Model S and notes he loves "to jump to 60 mph in three seconds. But, like with a gas-powered car," he adds, "that thrill wastes energy and truckers are frugal."
Bennett says for truckers brave enough to test the acceleration of their new electric truck, it will look a lot like this: (60mph-0)/20sec or (88ft/sec-0)/20sec=4.4feet/sec/sec, or (4.4f/s/s) / (32.2f/s/s) =.14Gs.
"Trailers and their payloads already accommodate much higher G-accelerations," he says. "We test loaded tool boxes and their mountings by mounting them to an empty flatbed and ran it fast on our test track. As it bounces around, we have measured accelerations of up to 15-Gs. Fuel tanks, tire carriers, and reefer units are also tested this way on an empty reefer trailer on the track to accelerate these heavy items at the maximum Gs they could experience. Hitting a speed bump at high speed will put a real jolt in the entire system, but for really high G-accelerations an empty trailer with a stiff spring suspension is needed."
Ehrlich adds a sudden forward blast of acceleration also doesn't change how the company thinks about cargo securement because there's already focus on securement in emergency braking events.
"When you don't secure the cargo and there is emergency braking, the cargo doesn't stop," he says. "The cargo is 34,000 pounds and the trailer is 13,000 pounds, so you're actually securing the trailer to the cargo. The cargo is going to keep moving [backward or forward] unless it's restrained."
As electric technologies evolve, Ehrlich says the onus will fall to the trailer manufacturers to support the trucks, and solutions are likely to include trailers designed to be pulled exclusively by an electric truck.
"You might have some push from the electric trailer that consists of its own electric drive motor," Ehrlich poses. "I could certainly see something like that coming in the future."