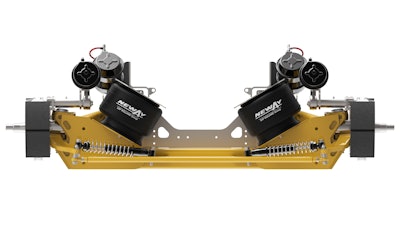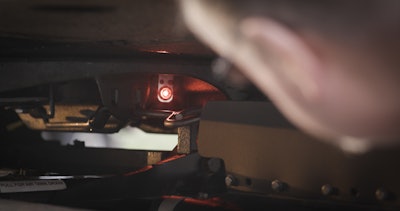 SAF-Holland introduced its new large-capacity 20K Neway LSZ Auxiliary Steerable Lift Axle Suspension at the North American Commercial Vehicle Show in Atlanta Wednesday.
With a package size of 18.3-inches, the LSZ is up to 8 inches shorter than comparable lift axles, allowing some customers to spec shorter wheelbase trucks for improved maneuverability.
"We learned installers were running out of wheelbase," Jason Heath, product manager for Neway Truck, Bus & RV Suspensions. "[The new LSZ] is about two-thirds the size of the closest competitor."
Heath says air tanks for the suspension are mounted inside the suspension itself, creating even more frame rail space.
The unit's SuperChamber doubles the lift speed of traditional air springs and keeps the axle from bouncing banging on the chassis.
"This improves the comfort and allows the driver to do what they are supposed to do: drive the truck," Heath says.
The angled design of the LSZ air springs improves tracking, lateral stability, tire life, and improves. The LSZ is the only line of lift axles to use premium rolling lobe style air springs, improving ride quality.
"It also allows us to use a smaller axle tube to improve ground clearance," Heath adds.
The LSZ has a proprietary kingpin design that improves maintenance, needing no drilling, shimming, reaming and eliminates the use of dial indicators. If knuckle components ever wear out, they can easily be replaced by removing a single bolt.
Optional features include disc brakes, a fully plumbed setup, in-cab and outside air controls and prep for fender brackets. The new axle will be available later this year.
Also Wednesday, the company introduced a retrofit kit for its new automatic fifth wheel lighting system.
Designed for Holland FW35 Series Fifth Wheels, the Electronic Lock Indicator (ELI-te) is an electronic system that senses kingpin's location within the locks, improving coupling and reducing the likelihood of dropped trailers by displaying a white light for a proper connection and blinking red for improper connection. It can be retrofitted to a fifth wheel in under two hours.
The new retrofit is available through SAF-Holland Original Parts distributors and dealers. And, the plug-and-play technology makes it easy to install. It's also available as a replacement top plate or as a complete fifth wheel assembly to replace other brands of fifth wheel.