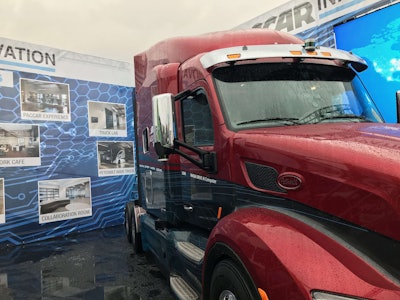 Peterbilt Motors Company packed up Model 579, flush with autonomous technologies, and headed west to the 2018 Consumer Electronics Show (CES) in LAS VEGAS, the largest electronics show in North America and the launch pad for new technology products.
The Model 579 being showcased is Peterbilt's autonomous development tractor and features a Paccar MX-13 engine and a suite of autonomous technologies the Denton-based company currently has in development.
CES is a melting pot of companies making breakthroughs and pushing the envelope in a wide variety of industries, trucking included," says Kyle Quinn, Peterbilt Motors Company general manager. "This opportunity to showcase Peterbilt's work is exciting. Throughout the last few years, we have seen some exciting developments in the commercial vehicle industry that have pushed the boundaries of innovation. I don't think there has been a more exciting time to be working in this industry."
CES is held each January in Las Vegas and has served as the proving ground for innovators and breakthrough technologies for 50 years – the global stage where next-generation innovations are introduced to the marketplace. As the largest hands-on event of its kind, CES features technology from a wide array of industries. Companies will represent gaming, automotive, health and wellness, sports, manufacturing, home and family industries among many others. The first CES was held in New York City in 1967. More than 170,000 visitors are expected to attend and represent 150 countries.