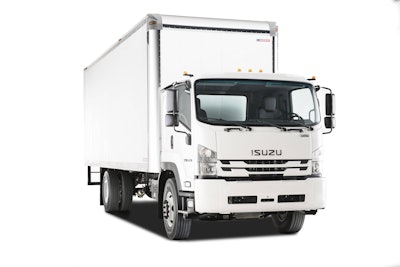 For Isuzu Commercial Truck of America, 2017 was a banner year. The distributor of America's best-selling low cab forward trucks shattered two sales records last year, making last year its new benchmark for retail sales of Isuzu-brand trucks and sales of Isuzu parts.
This marks the third year in a row that Isuzu has established records in these key metrics.
Isuzu dealers retailed 22,633 Isuzu trucks to customers in 2017—a record for Isuzu-brand trucks in the U.S.
In addition, Isuzu dealers purchased more parts with a sales increase of 3.9 percent versus 2016, setting another record.
"These records carry more meaning when you consider that we faced an increasing level of competition throughout 2017," says Shaun C. Skinner, president, Isuzu Commercial Truck of America. "Our 2017 results are a testament to the hard work of our dealer body and our field force—and, of course, the loyalty of our customers."
Skinner says he is confident that the company's momentum will continue into 2018:
"The forecasts for our economy continue to be positive. Medium-duty trucks are in demand, and as the retail environment changes to rely less on bricks and mortar, that demand is expected to grow even more. And we have the strongest product lineup we have ever offered, with the addition of the all-new Class 6 FTR.
"Combine all these factors and 2018 looks to be another great year for Isuzu," Skinner said.