Sharply designed fleet graphics can say a lot about a trucking company. Whether they serve to promote a brand image or a specific product, truck and trailer wraps with bold colors and eye appeal help both for-hire and private carriers stand out on crowded highways and surface streets.
Besides telling everyone more about your company, the products you haul and the services you supply, smart and sophisticated truck graphics also can send a message of professionalism to shippers and receivers while also impressing the motoring public who are accustomed to steering away from dirty and dated rigs.
Since 1978, Commercial Carrier Journal has recognized excellence in fleet graphics design and execution. The judges for this year's CCJ's Five Flashiest Fleets competition included editorial and art design staffs from CCJ and fellow Randall-Reilly publications Truck Parts & Service, Successful Dealer and Overdrive.
Each judge ranked their top 10 out of all submitted entries, and scores were weighted to determine a final ranking. The five winning submissions this year successfully relate the company's purpose, tell a story or promote a strong corporate brand image.
Check out this year's CCJ's Five Flashiest Fleets, and get inspired to relay your company's message.
—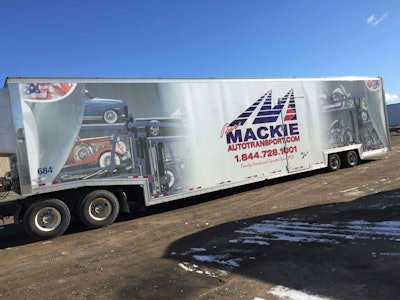 5. Sporty inside and out
Carrier: Mackie Transportation Inc., Whitby, Ontario
Graphics designer: Sign Design & Graphics Ltd.
Mackie Transportation is Canada's largest over-the-road enclosed vehicle transporting company. Having pioneered the enclosed transport of family and classic vehicles in the early 1950s, Mackie refined its dedication to meet its changing client needs to include ultra-modern exotic rides, antique vehicles, sports cars, manufacturers' prototypes and museum pieces. The company's trailers proudly showcase its market expertise in these areas.
"We proudly pull these trailers across North America and take pride in our commitment to treat our customers' units with care and the white-glove treatment any lover of cars would show," said Ryan Blackwood, manager of fleet services.
Why we liked it: "What I found most interesting about Mackie Transportation's design is how it reveals the inner structure of a covered auto-hauling trailer. I imagine motorists would be drawn to this design to satisfy their curiosity about how many vehicles are able to fit inside, as well as how they are secured and protected during transit. The design also shows a variety of vehicles to showcase the custom auto-hauling solutions the company offers." – Aaron Huff, CCJ senior editor
—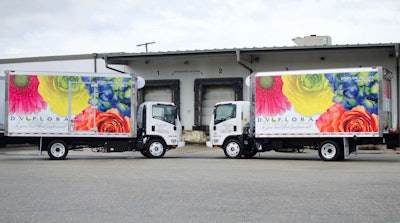 4. Just look at the flowers
Carrier: Delaware Valley Floral Group, Sewell, N.J.
Graphics designer: Delaware Valley Floral Group
Delaware Valley Floral Group is a B2B wholesale floral company, and its 100 DV Flora delivery trucks are spread across the Northeastern United States. Early on, the company realized an opportunity to spread the message that flowers are always a great gift no matter the occasion, and it uses its trucks to promote its customers' businesses – and also its own in the process.
"We feel it's part of our responsibility to help promote flowers to end consumers in an effort to drive business to retailers," said John Burk, project manager. "Our trailers provide the perfect marketing component to get people thinking about purchasing flowers."
Why we liked it: "The colors are vibrant, and the contrast with the white cabover and white wheels really makes the whole truck pop. The design itself is straightforward. If you've never heard of this company, you know they're a florist the moment you see their truck. It's a clean and simple package that makes for an effective extension of DV Flora's branding." – Jason Cannon, CCJ equipment editor
—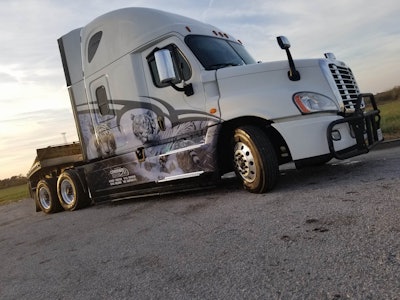 3. On the prowl
Carrier: Carrier One Inc., Alsip, Ill.
Graphics designer: Thunder Graphics
Carrier One is a privately-owned flatbed hauler founded in 2003 and purchased in 2012 by the company's current ownership, who began operations with just one truck. Carrier One since has grown to 225 tractors operating primarily east of the Rocky Mountains. The company is recognized most frequently for its trademark green tractors, but select models are designed to proudly illustrate its' contractors unique charismas – hence this tractor featuring tough four-legged hunters of the wild, driven by contractor James Newlin.
"We want people to see that we are more than just green trucks," said Lane Williams, recruiting director. "Our contractors' personalities show through more than people realize."
Why we liked it: "The black-and-white designs depicting wolves and tigers really caught my eye. The diamond-plate design on the steps and covering the tanks looks great blended with the other art on the truck. All of it together gives the rig an aggressive look." – Matt Cole, CCJ associate editor
—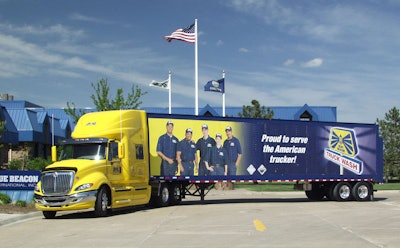 2. Clean look for truck cleaners
Carrier: Power-Vac Inc., Salina, Kan.
Graphics designer: Blue Beacon International
Power-Vac's trucks serve as rolling billboards for its parent company, Blue Beacon Truck Wash. The trucks serve in dedicated service to Blue Beacon Truck Wash facilities across the nation, visiting every location in the lower 48 states at least once each month to deliver cleaning solutions, parts and supplies. While doing so, Power-Vac spreads the message that a pristine truck is an eye-catching and eyebrow-raising advertisement for a fleet's services.
"We paint these rigs in our own paint shop," said Greg Soldan, vice president and general manager.
Why we liked it: "These fantastic-looking and eye-catching tractor-trailers are pretty much a dictionary example of what our annual Five Flashiest Fleets is all about. Blue Beacon's job is to promote the fact that clean-looking trucks are great advertising tools, and in a twist, that's the same thing CCJ does every year with this recognition contest. Great marketing for both Power-Vac's customers and the general public." – Dean Smallwood, CCJ managing editor
—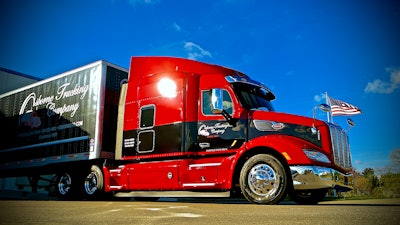 1. Nearly 60, still looking good
Carrier: Osborne Trucking Co., Fairfield, Ohio
Graphics designer: Osborne Trucking Co.
Osborne Trucking Co. has a tremendous amount of pride in its history and accomplishments, and that pride manifests itself in its equipment. The dry van truckload company started in 1959 with Orville Osborne's vision and a $600 loan, and it gives Osborne Trucking a tremendous amount of satisfaction to see the company's name shining on the side of its fleet as it approaches its 60th anniversary. Its sleek, professional tractors and trailers have become a symbol across Ohio and beyond the Buckeye State's borders.
"It is amazing how many folks recognize us by those designs," says Brant Osborne, chief operating officer. "With our customized red and black tractors and our trailers, we try to convey the sense that we do things a little differently here at Osborne."
Why we liked it: "The all-black trailers stand out in a sea of bland white trailers on the highways, but what really caught my eye was the tractor's two-tone black-on-red paint scheme with sharp, clean lines. The graphics tie in nicely to the trailer, and the chrome bumper, grille and accent pieces add a real pop and are a real contrast to the red background." — Jeff Crissey, CCJ Editor