CCJ's Indicators rounds up the latest reports on trucking business indicators on rates, freight, equipment, the economy and more.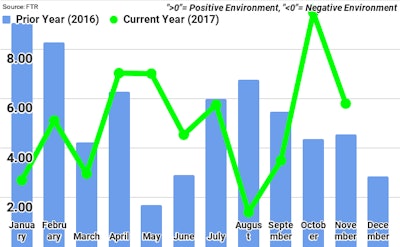 Market conditions for carriers remains strong despite monthly dip: Economic conditions for trucking companies eased slightly in November after a big spike in October, according to FTR's monthly Trucking Conditions Index. With capacity tight — utilization is near 100 percent, FTR says — any increases in rates or additional freight growth will push the index higher again.
"We are already seeing the pricing effects take hold with more substantial contract rate gains as spot market pricing surged after the hurricanes and during the holidays. Spot markets actually hit record high rates in the last week of 2017 and are starting 2018 at a significantly elevated level. As we move into 2018, the market is poised to see additional freight growth and further limits on capacity as ELDs are fully enforced beginning April 1," says FTR Chief Operating Officer Jonathan Starks. "The next critical time frame is Q2 when truckload activity ramps up and the full ELD enforcement hits. As the recent Polar Vortex weather demonstrated, any modest change in operating conditions can have an oversized impact on carriers and shippers as the industry operates with very limited (if any) excess capacity."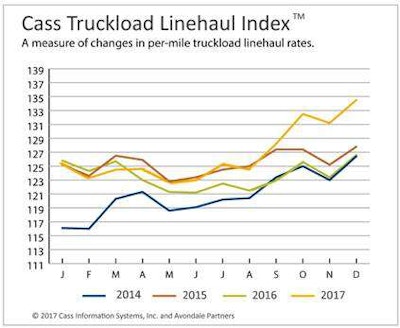 Rates 'continued the acceleration' in December: December's Cass Truckload Linehaul Index, which measures changes in linehaul (base) rates, reports that rates in December were up 6.2 percent from the same month the year prior, enough to push the index's reading to an all-time high.
The Cass TL Linehaul Index has now reported year-over-year rates gains nine months in a row — and are projected to continue to climb. "In just the last six months, our pricing forecast has increased from a -1 percent to 2 percent change, to 6 percent to 8 percent, and now gives us reason to believe the risk to our estimate may be to the upside," said Donald Broughton, analyst and commentator for the Cass Indexes. "The current strength being reported in spot rates is leading us to believe contract pricing rates should keep year-over-year rate comparisons in positive territory well into 2018."