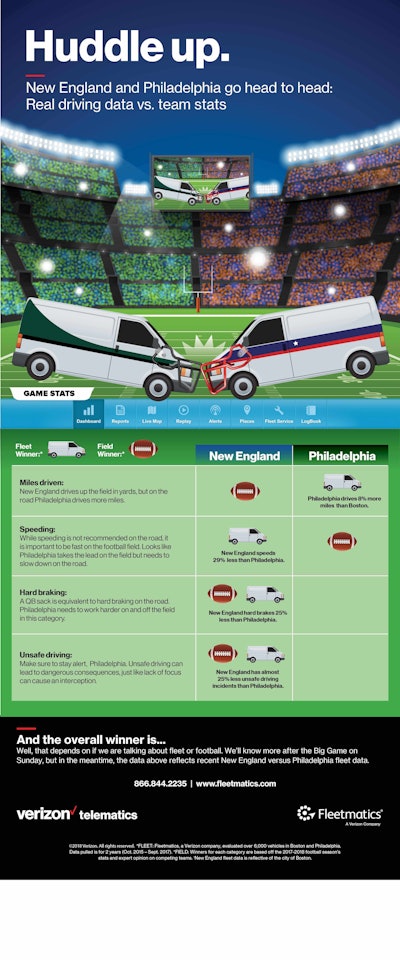 Ahead of the Super Bowl on Sunday, Verizon Telematics took the competition between Philadelphia and New England off the gridiron and to the road.
The company analyzed data from 6,000 commercial vehicles in both cities using the Fleetmatics technology that fleets install on assets for tracking and for monitoring driving habits.
Key insights gathered by Verizon Telematics about Boston and Philadelphia driving habits show New Englanders are the clear winner for safety. Will safer driving bless the Patriots with a home field advantage on Sunday? Here is Verizon's pre-game analysis:
Boston has 24.6% more safe drivers than Philadelphia. Unsafe driving can lead to dangerous consequences, just like a lack of focus can cause the other team to intercept the ball on a pass.
Philadelphia drivers speed 29% more than Boston drivers on the road – While speeding is not recommended on the road, it is important to be fast on the football field. Looks like Philadelphia takes the lead on the field but needs to slow down on the road.
Boston hard brakes 25% less than Philadelphia – A QB sack is equivalent to hard braking on the road. Philadelphia needs to work harder on and off the field in this category.
Philadelphia drove 8% more miles than Boston in the last two years – On the field, New England defense is considered the underdog in stops against Philadelphia, and on the road, less stops means more jobs completed by Philadelphia.
Verizon Telematics put together an infographic that summarizes these and other findings to get the competitive juices flowing between fleets and drivers that may have a stake in the Big Game. Click on the image to enlarge.