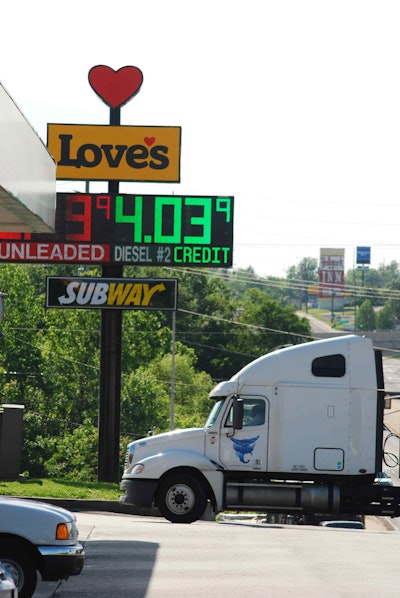 For just the second time this year, diesel fuel prices dropped week-over-week, falling by 2.3 cents during the week ending Feb. 12, according to the Department of Energy's weekly report.
With the decrease, the U.S.' average price for a gallon of on-highway diesel is now $3.063. This week marks the fifth consecutive week of fuel prices above the $3 a gallon mark.
Each region across the U.S. saw prices fall, with the most significant decrease being seen in the West Coast less California region, where prices fell by 3.7 cents.
Despite a 2.2-cent drop, California continues to be tops across the country in fuel prices at $3.689 per gallon, followed by the Central Atlantic region at $3.306 per gallon.
The cheapest diesel can be found in the Gulf Coast region at $2.851 per gallon, followed by the Lower Atlantic region at $2.966 per gallon.
Prices in other regions, according to the DOE, are:
New England – $3.154
Midwest – $3.02
Rocky Kountain – $2.972
West Coast less California – $3.107
ProMiles' numbers during the week also saw diesel prices drop, falling by 3.1 cents to $3.01 per gallon nationwide.
According to ProMiles' Fuel Surcharge Index, the most expensive diesel can be found in California at $3.657 per gallon, and the cheapest can be found in the Gulf Coast region at $2.852 per gallon.